Best Men's Golf Club Sets to Get Into the Game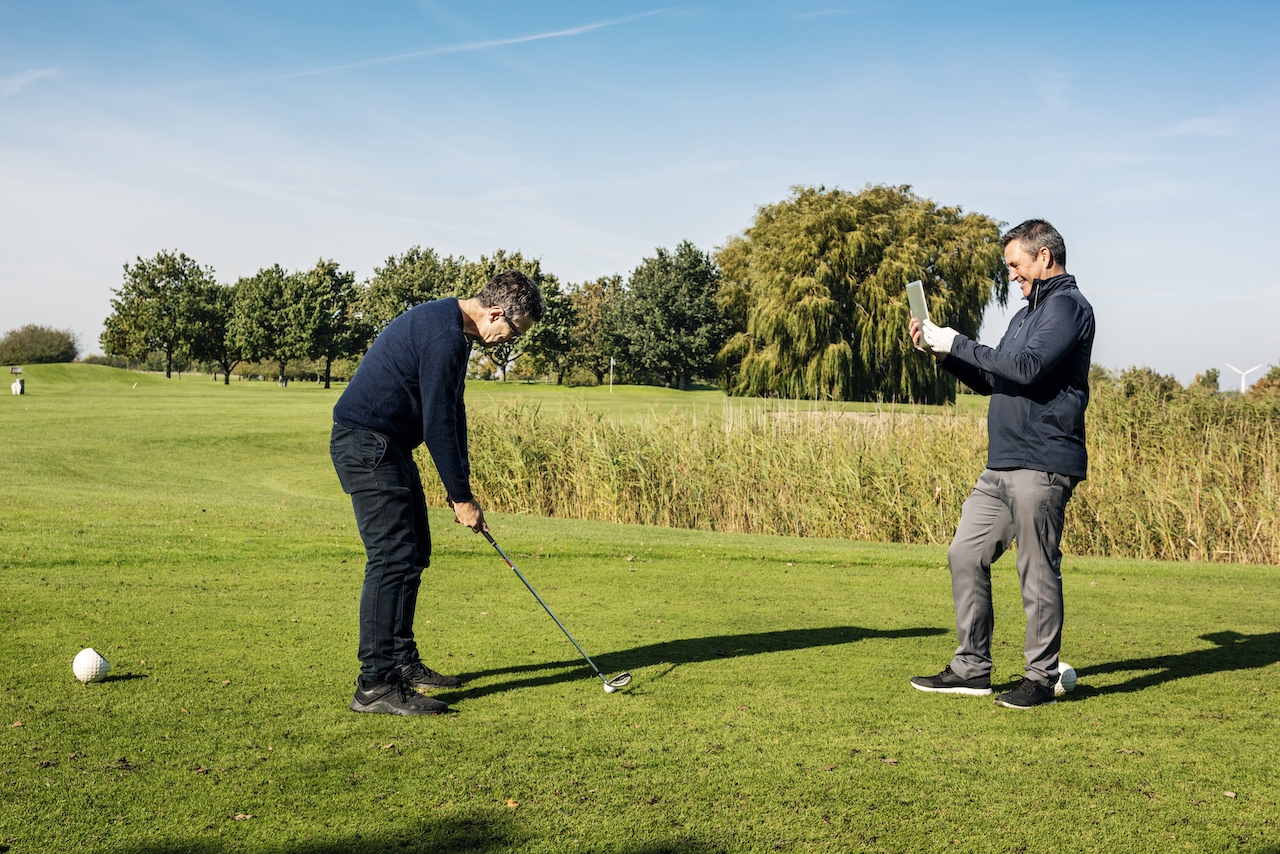 With so many golf clubs marketed to beginners, how can you expect to know where to start on your journey to owning your first set of sticks? Thankfully, all of those options bring you different tiers of prices and quality. Here are some of the factors to consider and some of the best golf club sets available to help you get into the game.
Pre-Owned or New?
One of the first questions you should ask yourself is if you would like to purchase golf clubs that are new or clubs that are used? You might want to ask yourself this before you finalize your budget for this purchase.
Not long ago, the divide between used and new golf clubs was glaring. That's because people held on to their clubs for longer periods of time because all of the great options we have today didn't exist. Now, you can easily find used clubs that have barely been hit, thus saving you a few bucks. If you're not entertaining the idea of owning used clubs is, your path is clear.
Set Makeup
You're allowed 14 clubs in your golf bag, so what should you go with?
Complete sets (also known as packaged sets) are a great option for any beginner. These sets include a driver, fairway woods, hybrids, irons, wedges, and a putter. They usually even come with a golf bag already. Complete sets are nice because they take the guesswork out of how to make up your set of clubs by providing you with what's most commonly needed.
The alternative to a complete set is compiling your own set with separate purchases of all of the clubs listed above. If you go this route, a common setup will include a driver, one or two fairway woods, one or two hybrid clubs, a set of irons that begins with a 4-iron or 5-iron and runs through a pitching wedge or gap wedge, along with a higher-lofted wedge such as a 58 or 60 degree, and a putter.
Best Complete Set Options
Here are some of the best options you'll find from complete sets to individual clubs to fill your bag.
Wilson Profile SGI Complete Set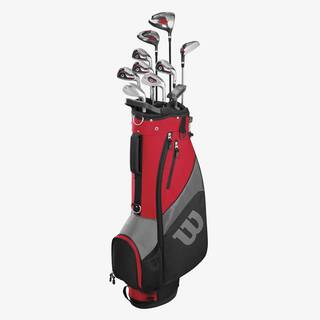 The Wilson Profile SGI Complete Set includes everything you need to get started in golf, plain and simple. Wilson has always produced a line of golf clubs that are easy to hit and the Profile SGI Complete set falls right in line.
For $399, you'll be set for your first lessons and trips to the course. The complete set includes a driver, one fairway wood, one hybrid, 6-iron through 9-irons, two wedges, a putter, and a golf bag.
As you progress with the game, there's a good chance you'll "outgrow" these clubs, but anticipate this complete set doing the job for you for your first few seasons.
Tour Edge Bazooka 370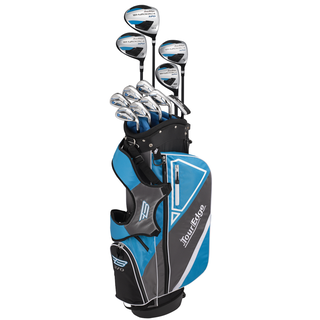 The Tour Edge Bazooka is another complete set that will easily get you started and allow you to take your next steps in golf. Tour Edge actually offers several "Get in the Game" product offerings, and the Bazooka 370 is the most complete starter option.
For $599, the Bazooka set includes a driver, 3- and 5-woods, one hybrid, 5-iron through 9-iron, pitching wedge, sand wedge, and a putter. Senior sets include a lightweight cart bag while standard sets will include a versatile stand bag.
Callaway Strata Tour 16-Piece Set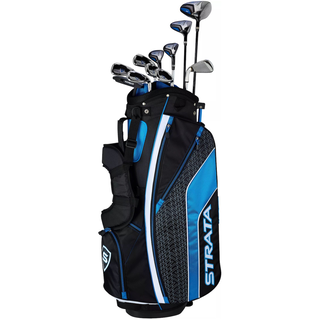 Strata is Callaway's introductory brand of golf clubs, but Strata is still held to the same standards as the higher priced Callaway clubs you'll find in stores.
The Strata 16-Piece set is a little bit of a different take on the complete set from the two previously listed. For $599 this set includes two hybrids, which are intended to be easier to hit than long irons. You'll also receive 6 iron- sand wedge on irons plus a stand bag.
Comparison
Each of these sets includes a driver, putter, and golf bag, but there are other details that vary a little bit. Here's a look at how these complete sets compare side-by-side.
| | | | |
| --- | --- | --- | --- |
| | Wilson Profile SGI | Tour Edge Bazooka | Callaway Strata |
| Price | $399 | $599 | $599 |
| Total Clubs | 10 | 12 | 11 |
| Fairway Woods | 1 (5-wood) | 2 (3-wood, 5-wood) | 1 (3-wood) |
| Hybrids | 1 (5-hybrid) | 1 (4-hybrid) | 2 (4-5 hybrid) |
| Irons | 6-9 iron | 5-9 iron | 6-9 iron |
| Wedges | 2 (PW, SW) | 2 (PW, SW) | 2 (PW, SW) |
| Left Handed Available? | Yes | Yes | No |
Best Clubs to Build Your Own Set
If you prefer to piece together your own set of clubs, from woods, to irons, wedges and a putter, you have several options to do so. Here are our picks for some of the top choices in each category.
Woods: Cleveland Launcher XL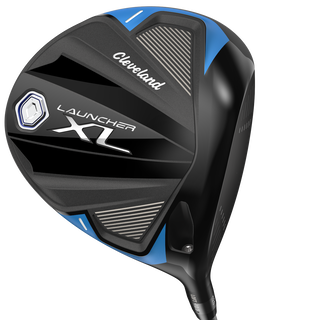 If you're in need of only woods, including driver, fairways, and hybrids, check out the Launcher XL line from Cleveland Golf. These clubs were all developed with ease of use in mind. The Launcher XL line is designed to launch high, be extremely forgiving, and give players the best distance possible.
The Launcher XL lineup is perfect for beginners and more than suitable for mid-level handicap players, so as your game progresses, you won't need to replace these clubs right away.
Irons: Sub 70 799 Irons
If you're in the market for irons, check out the 799 irons from Sub 70. This direct-to-consumer brand is a smart choice because they save you the extra costs of purchasing clubs from a retailer.
The 799 irons launching high and are extremely forgiving. A set of 5-iron through pitching wedge costs $500, and the company is so confident you'll like them they even offer a 60-day guarantee for a full refund.

Putter: Tour Edge HP Series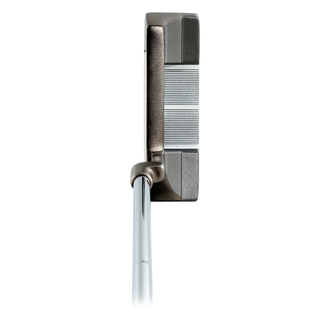 There's something about having a brand new putter that just feels good. For a new golfer, even if you decide to go pre-owned on all of your other clubs, treat yourself to a shiny new flat stick to get started on the right foot. Most importantly, a new starter putter shouldn't cost you more than $100.
The HP Series from Tour Edge is the perfect direction for you to go. You have eight different head options to choose from, from blades to mallets, with different alignment options. Best of all, $79 is your investment for a putter that you might decide to play for a decade or more.
Recommendations
It's always recommended that you get fit for your first set of clubs by a certified club fitter. Even if it's as simple as knowing the correct shafts to start out with can be of immense help in the early going of your golf club shopping.