Troubleshooting Yamaha Golf Carts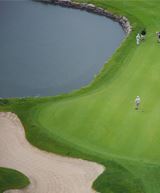 Yamaha golf carts, like any other machine, will occasionally require troubleshooting and maintenance to ensure that they are functioning properly. Learning to troubleshoot your cart will help you recognize any potential problems before they become serious issues or safety hazards.
Instructions
Difficulty: Moderately Challenging
Yamaha carts run on electricity generated by an acid-based rechargeable battery and most problems can be traced to this source. If your cart is sluggish or won't start, the battery may need to be charged. If it is charged, but still not working properly, make sure the battery terminal connections are clean and secure. You can use a mixture of baking soda and water to clean the terminals by removing corrosion and other debris. Look inside the battery to ensure that distilled water is fully covering the conductor plates.
The cart's solenoid wire may also cause problems. This insulated wire channels the electric current from the battery that powers the cart. If you press on the cart's accelerator and do not hear a clicking sound, the solenoid wires may need tightening. If they are tight and secure and you still hear no clicking when pressing the accelerator, the solenoid likely needs to be replaced.
If the solenoid is functioning properly, the battery is connected and charged, and you still are having a problem with the cart, then the problem is likely the motor. Check the motor for loose wires and make sure there is resistance from the drive belt. If there is no resistance, the drive shaft may need repairing or the motor may need replacing. Consult an authorized Yamaha dealer for replacement motor parts or a new motor.
Tips & Warnings
Use extreme caution when examining battery components and wires. Make sure the cart is cooled down and has not been running before cleaning battery terminals or examining conductor plates inside the battery.