How to Hit Higher, Softer Pitches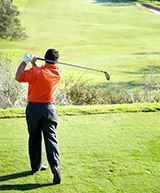 Playing pitch shots is a key ingredient in developing a well-rounded short game. Using your pitching wedge or 60-degree lob wedge will give you a chance to get near the hole and sink a short putt for a birdie or par. Sometimes you're forced to go over a hazard or tree and need to hit a higher pitch to reach the green.
Instructions
Difficulty: Moderately Challenging
Play the ball near your back foot in your stance. When hitting a drive or a long fairway shot, you want to play the ball in the middle of your stance or a ball length closer to your front foot. With a soft pitch shot, you have to play it near your back foot to impart the desired spin on the ball.
Place the sole of your club on the ground so the club face is pointed directly at the target. Do not open the face. If you do, it will cause the ball to bounce and prevent it from stopping softly.
Make sure your hands are hanging straight down. Ease up your grip pressure. If a normal swing has your grip at "5" on a scale of 1 to 10, your hands should be at a "4" when preparing to hit a high pitch shot.
Bring your club back to knee level, then break your wrists so the toe of the club points up when your hands reach the midthigh level. Rotate your chest and hips through the hitting zone, then make sure your hands are moving at the same speed. This will bring the club head to the bottom of the ball and make it jump high and then stop softly.
Practice your pitch shot with your pitching wedge or your lob wedge before the start of your round. This swing is quite a bit different from a normal fairway shot, so recognize you have to change your grip and club-head angle to accomplish the shot.
Tips & Warnings
Keep your hands loose and pliable when attempting to hit a high pitch shot that lands softly.