Golf in the Rain: 14 Techniques to Prepare & Dominate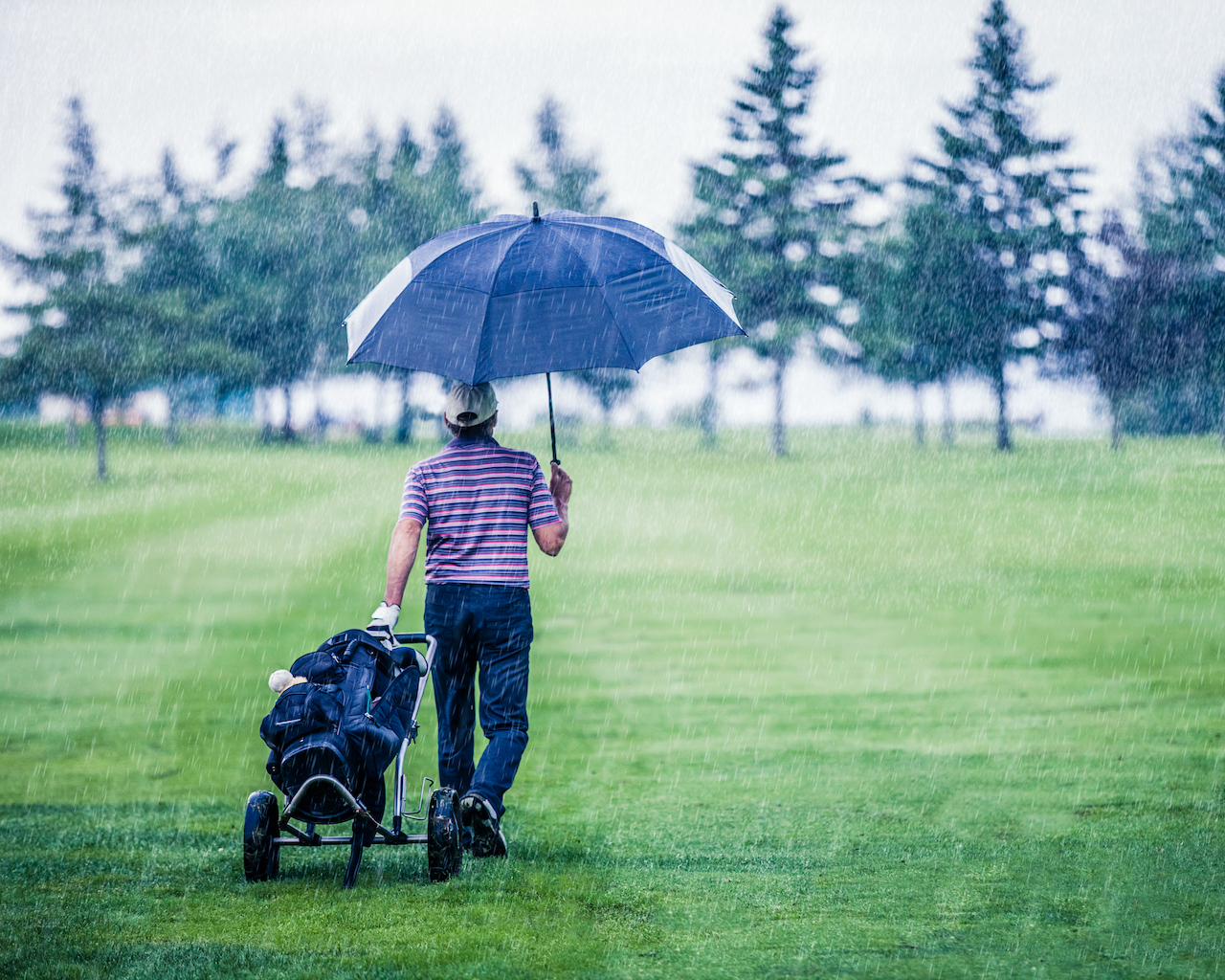 Getting caught in the rain while enjoying your day on the golf course is a downer. It's even worse if you're not prepared. These 14 tips will help you not only prepare for a deluge, but help you salvage a good score, and make sure the soggy conditions don't affect your next round. If you think you know how to handle golf in the rain, we're certain that we can teach you a thing or two.
5 Tips To Prepare for a Rainy Round of Golf
As your round approaches, you notice rain in the forecast, which is a gut-wrenching feeling. But as the saying goes, "prior planning prevents poor performance." This could not be more true for preparing for a rainy day on the golf course. Here are five of the best ways to prepare for golf in the rain.
| | |
| --- | --- |
| Tip | Why it's Important |
| Use a Weather App | One of the simplest steps you can take to preparing properly before you even leave the house |
| Dress Accordingly | Rain jacket, rain pants, extra hat, and waterproof golf shoes are essential |
| Pack Extra Towels and Gloves | You will thank yourself later for having extras |
| Own a Reliable Umbrella | Small, compact umbrellas have no place on a golf course. Get yourself a large umbrella designed for golf |
| Communicate with the Course | It's amazing what a quick phone call to the golf course will do for your preperation |
1. Get a Weather App
Make sure you have a weather app downloaded on your phone that gives you live radar. The two most popular apps are Weather Channel and AccuWeather.
As you prepare before your round, note how much rain is predicted, and when (in relation to your tee time). Will heavy rain earlier in the day impact when you actually tee off? Will the weather be ideal when you start, but rainy when you finish?
The app can also help on the golf course by alerting you of severe weather. Knowing if your light drizzle is going to turn into a lightning storm is key to staying safe.
2. Dress Accordingly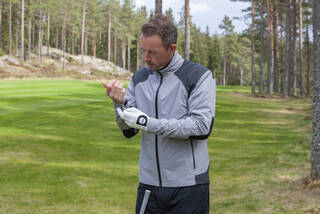 Dress for the best-case weather scenario. Meaning, shorts or golf pants, a polo shirt, and a hat. An outfit that you'll be comfortable in should the rain blow over and the sun comes out. Use the large zipper pocket on your golf bag to pack your rain gear. This should include:
Rain jacket
Rain pants
Extra hat
Having these items stowed away in your bag will not only keep them dry until you need them, but will also leave you extra room in the basket of your golf cart.
Make sure you have a pair of waterproof golf shoes. Any golf shoe that's made from a soft material or canvas will lead to a miserable and squishy day on the course.
3. Extra Towel and Glove
When playing golf in the rain, you can never have enough towels. If you have room in your golf bag, pack an extra. You can also ask the golf course if they have any extras that you can tuck away in the interior compartment of your golf cart. You'll need extra towels to wipe golf clubs, golf balls, the seat of the cart, and your hands.
Also, pack an extra golf glove for the day. This will be incredibly useful in a steady drizzle because you'll be able to switch out your wet glove for a dry one after nine holes.
4. Own a Reliable Umbrella
Make sure that you own and pack a reliable golf umbrella. A small umbrella that you keep in your trunk for emergencies will not suffice. If you don't own a proper golf umbrella, get one before taking on a rainy day on the golf course. Golf umbrellas are larger and typically stand up to wind gusts much better than a standard umbrella.
5. Communicate With the Course
If you have the luxury of a later tee time, call the golf course in the morning to check current conditions and the course status. You may learn that the course has implemented a cart path only rule, or perhaps no carts are being allowed at all on the course. A quick phone call to the golf course can also save you time from making your drive should be course be closed entirely.
Once you arrive, ask if the course has warning sirens to indicate threatening weather, and if the course has storm shelters so you know where you can seek cover in the event the weather turns severe.
Playing Golf in the Rain
You can over-prepare for a round of golf in the rain, but at a certain point, it's time to tee it up. Here are some tips to help you shoot a decent score, despite Mother Nature, and take down your less-prepared opponents.
| | |
| --- | --- |
| Tip | Why it's Important |
| Wear Rain Gloves | Golf rain gloves are designed for maximum grip in soggy situations |
| Club up for Distance | Your golf ball doesn't carry or roll as much in the rain. |
| Know Your Rules | Whether it's standing water or muddy golf balls, know the rules and your options |
| Prepare to Walk | Wet conditions usually flood fairways, forcing courses to play under "walking only" protocols |
| Realistic Expectations | Chances are you're not breaking a course record, so be realistic and have fun |
1. Wear Rain Gloves
Golf gloves specifically designed for the rain are a great sidekick for your rainy round. Rain or weather golf gloves allow you to take your normal grip because they aren't overly thick and awkward. If you don't own rain gloves, at the very least pack a backup glove in your bag.
We're fans of these rain gloves from FootJoy. For $23 you'll know after a few holes why they're critical to playing golf in the rain. 
2. Club Up for Distance
Rain impacts your distance because of the wet conditions. It's a good idea to club up on most shots, especially approach shots. Rain on the green limits back spin, and depending on how saturated the greens and fairways are, your ball can plug in the turf. 
In addition, you'll likely face longer than normal approach shots because your tee shots won't roll out as much as you're used to.
One strategy for combating distance loss due to rain and wet course conditions is to simply play one tee box forward from where you normally play. This will not only help you shoot a better score, but noticeably improve your pace of play. Let's face it, if you're on the course on a rainy day, a quicker round is more than welcomed.
3. Know Your Rules
It's important to know a couple of basic rules for playing golf in the rain.
Lift, Clean, Place: This comes into play when there are wet fairways that could lead to mud balls. Place a tee in the ground where your ball rests, pick up your ball and clean it, then place your ball back in its original spot. The lift, clean and place rule eliminates additional debris that will cause your golf ball to not flight correctly.
Standing Water: If your ball lands in standing water that isn't a penalty area, you are allowed to pull your golf ball out and take a free drop within one club length of the nearest point of complete relief, no closer to the hole.
4. Be Prepared to Walk
You should be prepared to walk more than normal on a rainy day at the golf course. If you are physically able, taking a push cart or walking will probably be easier and faster than riding in a golf cart.
Riding a cart on a rainy day will likely come with restrictions throughout the golf course, such as cart path only, or the 90-degree rule. On a cart-path-only day, using a cart doesn't save you much, if any time, as you inevitably hit your shot to the opposite side of the fairway than the cart path on seemingly every hole.
The 90-degree rule requires you to use the cart path until you can make a 90-degree turn to your ball. This is better than cart-path-only, but is not as efficient as driving the cart through the fairways as you please.
In addition to waterproof golf shoes, make sure your golf shoes are comfortable and have good grip so you don't slip in the wet conditions.
5. Set Realistic Expectations
Playing golf in the rain isn't ideal, and it will probably lead to a less than ideal score. If you're a low-handicap amateur and are used to having your way with the golf course, temper your expectations. The rainy elements often cause shorter distances and less control of your ball, and will likely wreak some havoc on your round. It can only help to stay realistic and simply aim to enjoy whatever you make of the day.
Post Round Tips
After your round, you're going to be left with some wet stuff. Here's how to keep that moisture out of your next, hopefully much dryer, round.
Wipe down all of your golf clubs. Use a dry towel and make sure you get the grooves of your irons to avoid rust. 
Take off your headcovers. Leave them out to dry or over an air vent in your house.
Unzip all the pockets of your golf bag. This allows them to dry out completely so you won't be left with damp, smelly pockets.
Hang your golf gloves out to dry. Leaving your glove in your bag will cause it to warp. Placing your glove where it can dry will ensure it's ready for the next round.
Stay Safe
Above all else, make sure that you stay safe and use good judgement when you play golf in the rain. There's no harm in playing it safe and living to play another day.