How to Create a Mini Golf Course in Your Backyard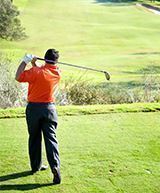 Anyone with a lot of money can have a contractor convert a backyard into a mini golf course, but doing it yourself is truly a family affair. Half the fun is finding unused items around the house and in the attic that will make your mini golf course unique. If you involve your family every step of the way, you will create a backyard golf course that all of you can enjoy.
Instructions
Difficulty: Moderate
Decide how many holes will fit in your backyard; then with your family's help, decide what each hole should look like. This process serves two purposes. First, it gets your family involved in the project at the beginning, and second, you will know what your mini golf course will need before you begin. Ask your family to rummage around the house and in the attic for unused items that you can use to complete the project. While they are doing that, establish a budget for things you know you will have to buy. For example, will you go to the expense of installing indoor-outdoor carpeting on each hole to give your backyard course a finished appearance, or will you opt for grass that you'll have to mow?
Give your mini golf course dimension by creating tunnels on some of the holes. Buy inexpensive PVC pipes that you can install belowground. Kids love to play in the dirt, so you'll have willing participants to dig needed holes.
Figure out how you are going to delineate each hole. One way to do this is to buy 10-foot-long 2-by-4s and place them about 3 feet apart, thus creating an alleyway of sorts for putting the ball toward the hole. A nice touch would be some dogleg holes that require a banked shot. You can create this by simply installing a 3-foot section of 2-by-4s at a 45-degree angle where the hole makes its turn.
Use the terrain of your backyard to make your mini golf course interesting. While most backyards are flat, many have changes in elevation. Simply place some of the holes in those areas to create breaking putts. Also, you can easily create a sand trap or two by buying some sand and placing it strategically in 2- to 3-foot holes that your kids could dig. Also, you can add a water hazard by embedding a container filled with water in a strategic location. The holes themselves can simply be small flowerpots that you bury so their rims are flush with the surface of the ground.
Add a final touch by creating a scorecard on your computer; then print a few of them for your backyard rounds.