How to Stick to Your Golf Fitness Program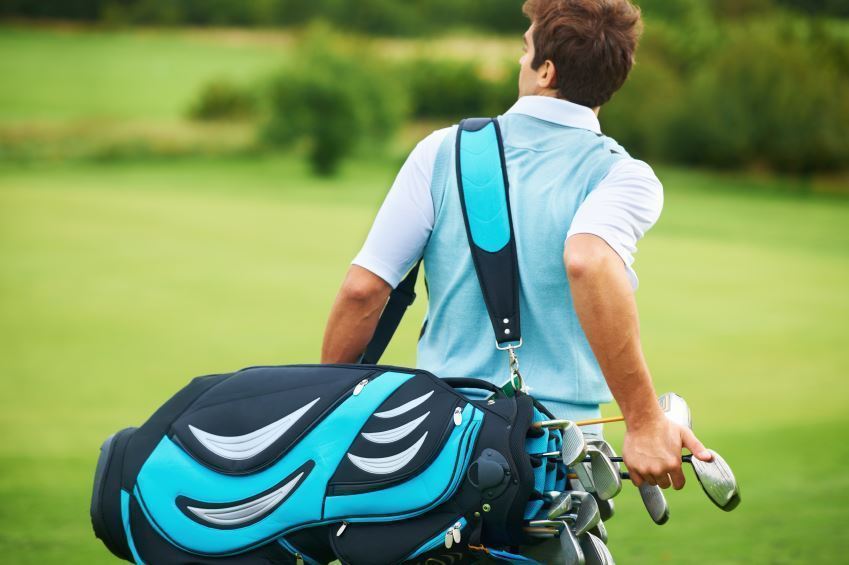 Golf is a game that is usually associated with relaxation and enjoyment with friends. That's one way to look at it. However, it's also a very competitive game, and friends who enjoy playing with each other also want to get the best of each other. To stay ahead of your friends and play at your best consistently, you need to devote yourself to improving and getting in top condition.
Instructions
Difficulty: Moderate
Work out before you play a round of golf. You can also work out the day before. Golfers can improve their games if they work on their core strength. One of the best ways to do this is to use a 24-inch exercise band. Hold it at shoulder height, pull it 12 inches to the outside with each arm and hold it for 3 seconds. Do this exercise 10 times.
Use an exercise ball to increase your core strength. Sit on the ball and find your balance point. Pick up two 5-pound dumbbells. Curl them alternately to your shoulders. Do 10 lifts with each arm. Take a 30-second break and do 10 more lifts.
Do isometric exercises in the locker room before your round of golf. Hold your hands together in front of your head. Push in with your hands as hard as you can, with each hand resisting the other. Push for 10 seconds and then relax. Do this 10 times.
Get into a running routine on days when you are not playing. In years past, the idea of golfers running was nothing but a joke. However, golfers walk 4 to 6 miles every round, so increasing cardiovascular fitness by running 2 to 3 miles a day two to three times a week makes sense.
Walk your 18-hole round of golf as often as possible. Many golfers enjoy taking a cart instead of walking the 18 holes. However, while it may be relaxing to take a cart and carry a beverage in it, you are walking 4 to 6 miles every round. Golfers need to get that exercise to keep their blood flowing and to stay sharp.
Tips & Warnings
Eat high-protein meals and stay away from fats and red meat.