How to Play a Ranch Golf Course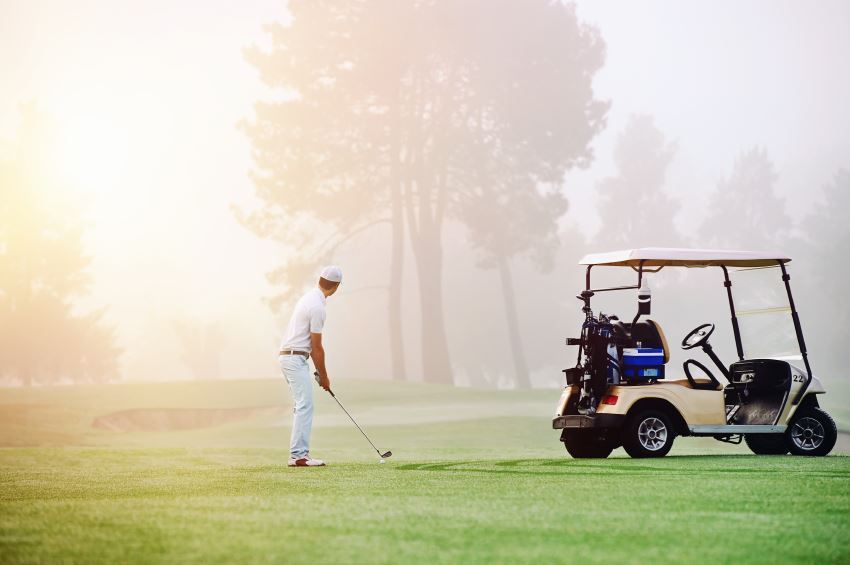 Ranch golf courses are bigger and wider than the average golf course. In many ways, they are better for high-handicap players because they are more spread out and wide open and don't require many of the fine and accurate shots that can be found on traditional courses. However, they also tend to be a bit longer, so being able to hit for distance off the tee and from the fairway will help a golfer tremendously.
Instructions
Difficulty: Moderate
Relax and have fun when you play a ranch course. Many of these courses are found in plains states that have wide-open spaces and not much in terms of hills, valleys or changing terrain. A golfer who can hit for distance has an excellent chance to be successful because hazards--manmade and natural--are usually limited.
Take advantage of the bigger fairways by opening up when you hit the ball off the tee. You can swing a tad harder than normal, because you are not going to have your shot go out of bounds. Get a bit of extra power by turning your front foot toward your target to get an even greater body turn at impact.
Play a lot of chip shots and bump-and-run approaches when you are playing a ranch course in the heat of summer. These courses tend to get harder and a bit more sunbaked, and that makes it tough for a golfer to land a pitch shot that bites. Go the other way and play a low chip and have it run up to the green and the flagstick.
Play your fairway irons low and hard. By playing low shots, you can take advantage of the extra roll you will get when playing on the sunbaked ranch course. Use your long irons, 2-, 3- and 4-irons, and play the shot midway in your stance to get the extra roll.
Play your putts hard and straight at the hole. Greens on ranch courses tend to be on the bumpy and uneven side, and that makes it difficult to predict the break it will take on its way to the hole. If you have a chance to hit your putt straight at the hole, take it, because it may be the most dependable way of getting the ball to the hole.
Tips & Warnings
Relax when playing on a ranch course, because you will have wide fairways to aim at.