Mexico Golf Vacations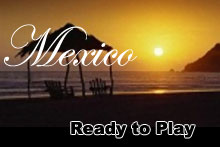 Mexico is a country of some 760,000 square miles, bordered on the north by the United States, on the south by Guatemala and Belize, on the east by the Gulf of Mexico and Caribbean Sea, and on the west by the majestic Pacific Ocean. It is a land of rich and ancient history, now reaching for a more modern society.
The flatlands of Mexico are situated between the two Sierra Madre mountain ranges. At an elevation of 2,500 to 10,000 feet, this area enjoys a moderate climate. Most of the larger cities and the bulk of Mexico's almost 70 million people can be found in this area.
Most of the major resorts are situated in the coastal lowland areas, where the climate is definitely tropical. While extremely warm and humid during the summer months, the temperature is pleasant during the winter.
Don't be reluctant to shop - Mexico is a bargainer's paradise. Take the tours, as they will offer you a good selection of sights at a relatively low cost. And when the sun goes down, Mexico comes alive. Take part, as there is much to see and do.
The best part of Mexico is the people. They are warm and friendly, and graciously tolerant when we mutilate their beautiful language.
Mexico is a destination of many moods, a country of geographical contrast. With 6,200 miles of breathtaking coastline on the Pacific, the Caribbean, the Gulf of Mexico and the Sea of Cortez the country is known for its splendid beaches.
With sun-warmed colors, azure skies and daylight temperatures in the 70's and 80's for most of the year, Mexico is the ultimate golf destination. Magnificent courses built to adapt to the natural surroundings and protect the environment are located throughout the country.
The startling beauty of the country accents the golf courses with breathtaking views and challenging water and vegetation hazards. From well-known Cabo San Lucas to Golf Tangolunda, golf in Mexico is somewhere between heaven and earth.
Mexico Golf Getaways
Click the flags located on the map to learn more about the areas.