Ireland Golf Vacations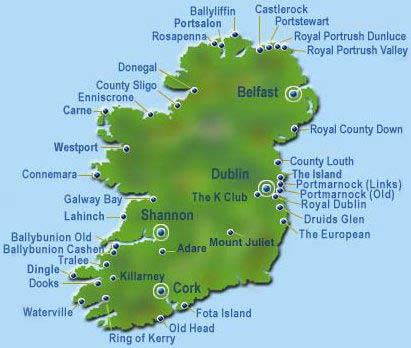 The Irish have all the luck. Having played 25 spectacular golf courses at 23 magnificent locations, I can see why Irish Eyes are Smiling.
A noted golf writer claimed that Scottish links should be played for their tradition and Irish links for their stunning beauty. The distinction is a little tightly drawn. Certainly, Scottish courses are generally older and have a longer tradition, but they are also beautiful in a classical sense. Yet, by American standards, Irish courses are not young. Some are over 100 years old.
Yet it is true. All of the famed Irish courses that you can read about in any catalog of world-class courses are unmistakably scenic, a fact that has as much to do with the magnificent, green and rugged coastal terrain of the Emerald Isle as it does with the ingenuity of their designers. The fact is, in Ireland, as well as Scotland, the best golf course designer is nature herself. And Ireland IS breathtakingly beautiful. Maybe that's why all those leprechauns settled there.
Throughout its tempestuous history, Ireland has withstood countless attacks from would-be conquerers who pelted the poor country with spears, arrows, musket balls and canon balls. Today, the isle is getting pelted by golf balls, launched by a growing army of Europeans, Americans and others, as well as the Irish themselves. At last count, Ireland had more golf courses per capita than any other country with several in the World's Top 100, a telling indication of the overwhelming popularity of the sport here.
And, since the early 90s, the Republic of Ireland has had a stunning renaissance embracing virtually every aspect of Irish life, from economics to culture, including dance, music and literature, to sports, notably golf. Now suddenly, it seems, the rest of the world has discovered its many charms and assets. Tourism is booming as never before.
Once a forgotten outpost in the British Isles, the capital Dublin is a bustling center of commerce, culture and conviviality. At a city where air traffic (not to mention road traffic) has tripled in the last two years, the English and European continentals come here by the planeload to enjoy a weekend of fun in the city James Joyce called our 'dear, dirty Dublin'. New modern buildings are going up so fast the enigmatic writer would scarcely recognize his city. Yet, the literary tour by his name is one of the city's most popular attractions.
Equally stunning is the growth in Ireland's economy, which was on life support only a few years ago but is now known as The Celtic Tiger. This tiger is growling along at a breathtaking double digit pace and high tech jobs, particularly, are going begging in an economy where overall wages are still relatively low.
Such boom times are reflected in an unprecedented growth in international business activity. For example, major U.S. corporations, such as Intel, Dell, Microsoft and IBM have established their European base of operations in the Republic of Ireland, now the world's second leading exporter of computer software. Meanwhile, exports are up in a burgeoning shipping trade.
Speaking again of golf, the Scots must be looking out over the Irish Sea with envy, as more and more travelers are designating the Emerald Isle as their primary golf destination in the British Isles. Search Irish golf on the Net and you will find more web sites than ever before, as tour operators try to capitalize on the sport's skyrocketing popularity.
Golfers who think that golf is about walking will be delighted with golf in Ireland, where walking with pull-carts, called "trollies," are the order of the day instead of electric carts, called "buggies." Not only does walking give you exercise, it actually keeps play moving and leads to better socializing on the course. Also, links golf is not target golf. You hit it as best you can and hope for the best, realizing that a great shot can be sabotaged by a random bounce off a mound or slope, or that a poor shot can be saved for the same reason. In other words, you take what the golf gods give you. In my opinion, golf in Ireland is much better than our motorized, target variety. There it is played as its originators intended it. And, like the Scots, the Irish would generally prefer to see beginning golfers on the practice range rather than the course, as they are more sophisticated golf-wise than Americans - and it behooves visitors to play efficiently, as slow play is definitely frowned upon.
But the Irish are a gracious, hospitable people, very warm and inviting to visitors. Such, of course, was not always the case, as the Irish (originally Celtic tribes who settled here from Europe) were anything but receptive to foreign efforts to subjugate them. And in spite of a prevalently dour climate of mist, fog and rain, interspersed with a few brilliant days of sunlight, the Irish keep a smile on their face. I was the recipient of this warmth at several golf clubs where I was made to feel like a king for the day.
In late June 1999 I had the privilege of playing seven outstanding courses in and around Dublin and on the northwest coast in Mayo and Sligo counties, the summer before two courses in Northern Ireland, and 14 on my latest visit in late May - early June 2000 to the west and southwest, including Lahinch, Ballybunion, Waterville and Old Head.
For all of its charms and attractions in other parts of the country, the west and southwest of Ireland is uniquely enchanting and wondrous. This part of Ireland also has the largest congregation of "name" courses, drawing legions of golfing nomads led by Americans who are so numerous on the courses and in the clubhouses you would swear you are in the States.
Beyond the golf, however, west and southwest Ireland is a land of unsurpassed beauty and fascination. It is both rugged along the jagged coastline and idyllically serene in the hills and on the grassy plains that seem to stretch forever. No wonder this land has inspired poets and mystics.
The geography in this part of Ireland is marked by large bays, scenic rivers, and peninsulas where the mountains come down to the shore in defiance of an insistent and moody sea. In this epic battle between land and sea, the outcome remains unclear. Whipped by waves riding on furious winds and pelted by rain that lets up at times but is never far away, the land has withstood intense punishment. Tall cliffs and dunes two stories high are testimony to the land's endurance and fortitude. It won't be subdued easily.
Further inland, sheep and goats graze on impossibly green waves of grass that was once under thousands of feet of ice, which, on retreat, left a legacy of lakes called loughs, rivers and abundant rock formations. The Burren, a 350-sq mile geologic wonder in north County Clare, has been called a "tortured land of rock," its limestone layers forming plateaus and hillsides exposed to the elements. Some of Ireland's most exotic and rare flora can be found here.
Further south is the Shannon River that colludes with the low-lying land to create one of the most scenic valleys anywhere. The river starts at a magnificent bay and heads due east through Limerick, Ireland's third largest city and once a hotbed of abject poverty (chronicled in the film and book, "Angela's Ashes). Today, Limerick is pulsing with industrial, educational and cultural vitality.
Even further south, Killarney, the gatepost city to County Kerry, is at the hub of a different kind of geography. Vast pine forests starting in the valley climb halfway up the MacGillycuddy's Reeks (highest peaks in Ireland) in a landscape reminiscent of Maine or Montana. Killarney National Park is an ecological treasure drawing hordes of hikers. As you drive west and south on the Ring of Kerry toward Waterville, the Skelligs, says the literature, "rise from the sea thrown up like Gothic Camelots."
Speaking of cities, west, southwest and southeast Ireland include Galway, which is undergoing its own renaissance; Cork, a bastion of education and culture (e.g. the October Jazz Festival), Waterford with its crystal manufacturing; Tralee, which is outgrowing its infrastructure; and Dingle, a coastal town rich in history. Sprinkled throughout are quaint towns and villages including Lisdoonvarna, a farming community noted for its Matchmaking Festival, an annual September ritual in which the unmarried farmers, after clearing the harvest, gather in the village to seek a wife. The festival is a fitting symbol, perhaps, of a country that is still steeped in tradition despite modernity's intrusion and the people seem as real as the land, just as rugged and determined, and unfailingly natural.
Into this scene come hordes of golfers, especially Americans hungering for true links-style golf. This part of Ireland delivers. It embraces the largest concentration of famed links-style golf courses in the world including Lahinch and Ballybunion, which Tom Watson labeled "the" best links course in the world. Like these two courses, Waterville was constructed in the early 1890s. But unlike them, Waterville was redesigned in the 1980s because a few ambitious local members saw the course as a way to draw tourists from afar, as well as to play the ancient game. The redesign, however, was tastefully accomplished with a view toward preserving the character of the original.
Fashioned along windswept beaches and between high dunes, these courses offer golfers used to "created" target-style golf, a totally different experience harkening back to the game's origins. There is nothing artificial here; just golf on foot dictated by the natural landscape, the elements and the luck of the bounce.
By contrast, the region also includes the more "modern" venues such as Tralee, designed by Arnold Palmer in the 1980's; Old Head, a spectacular and expertly designed course on a promontory that juts out into the Atlantic and was fashioned entirely on rock; and, further east and north, Mt. Juliet, a terrific parkland Nicklaus signature design. All three exhibit an unmistakable American style, yet they are worth a visit.
My Odyssey in this part of Ireland took me to Connemara at the far western end of Dingle Peninsula south to the famed old courses of Lahinch, Ballybunion, and Waterville (with a sprinkling of lesser known courses in between) and then east to Old Head, where great naval battles and a famous sinking took place just off shore. From there, I traveled toward Dublin to the pastoral Mt. Juliet resort in Thomastown and I finished the journey at Adare Manor, featuring a castle and a Trent Jones design that is every bit as challenging and ghoulish as the old master would have it.
This spring's trip was the perfect time to visit - just before the high season when even more international visitors are drawn here. Like a fine dessert capping off a gourmet three-course meal, it truly capped off my journeys to this natural wonderland of spectacular courses.
By all means play golf in Ireland, and be sure to put some of these on your itinerary.

Irish Golf Getaways
The Irish courses you read about are unmistakably scenic. The fact is, in Ireland the best golf course designer is nature herself. Into this scene come hordes of golfers from all over the world, especially Americans, hungering for true links-style golf.
World-class courses and spectacular scenery are found throughout the Emerald Isle, but the west and southwest - home to famed Ballybunion and Lahinch - is uniquely enchanting and beautiful. It is rugged along the jagged coastline and idyllically serene in the hills and on the grassy plains that seem to stretch forever. No wonder this land has inspired poets and mystics.
Put Ireland on your must-play list. Golf just doesn't get much better than this. And be sure to bring a camera as you will find many Kodak moments.

Click on the city or golf course names to learn more about the areas.
Ireland Golf Articles