Costa Rica Golf Vacations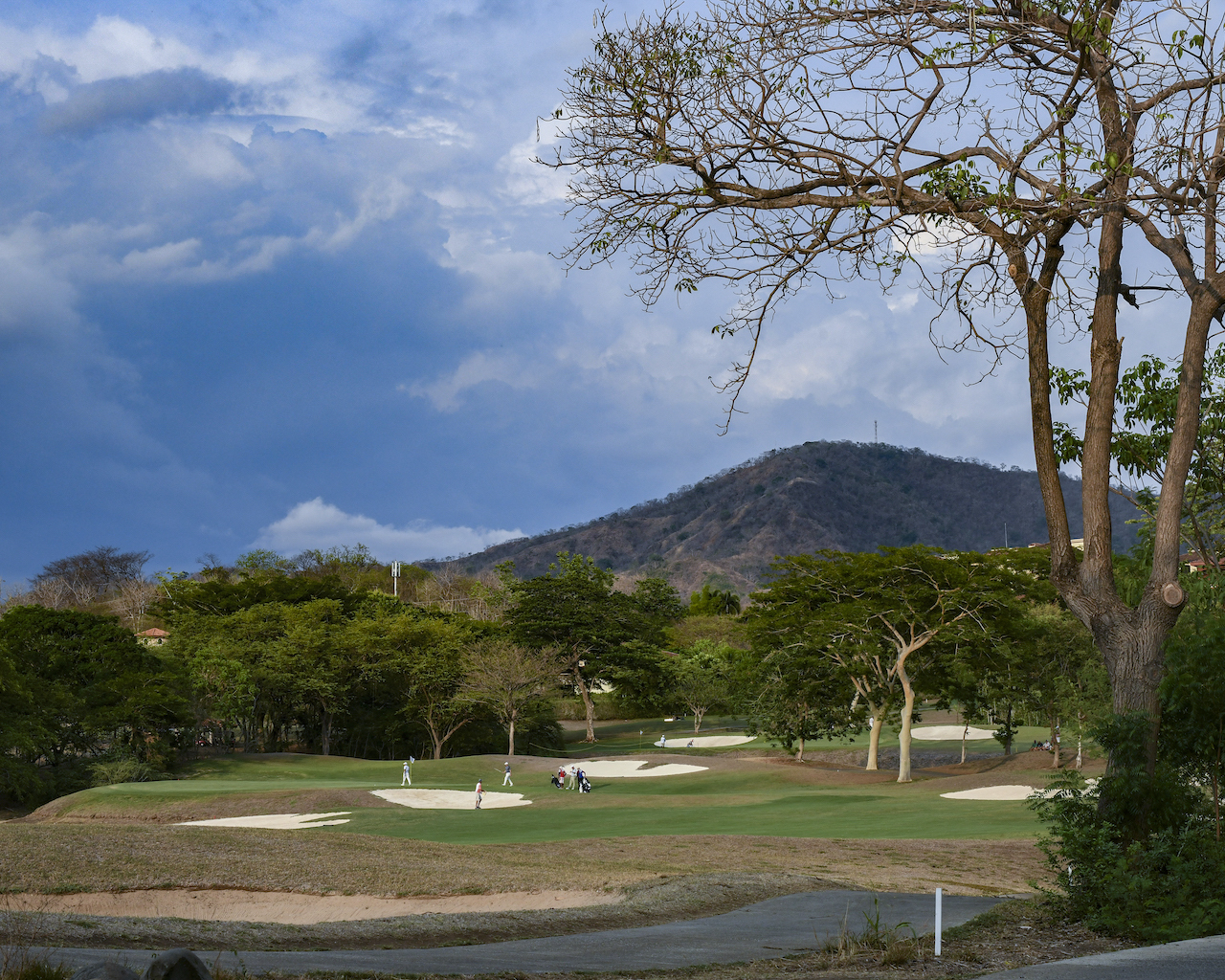 When you visit Costa Rica to play golf on any of its American-style courses, you also might want to pack binoculars and hiking boots. Located on the Central American isthmus between Nicaragua and Panama, this country in the Caribbean basin is a treasure trove of the richest biodiversity of any nation in the world. And its government is smart enough to protect it.
Costa Rica's progressive democratic government has enacted some of the strictest natural resource protection laws anywhere. While the rain forests, which provide habitat for most of the world's rich biodiversity, are rapidly being depleted in other countries, here the rain forest remains pristine - a pulsating undisturbed hive of the most exotic creatures in the world.
Costa Rica is home to more than 200 species of mammals, some 850 species of birds, 200 types of amphibians and 220 species of reptiles. There are over 1,500 species of orchids in a prodigious universe of plants and trees. When you factor in the country's glorious Pacific beaches that offer world class ocean surfing, and its endlessly interesting topography of mountains and valleys, it's no wonder Costa Rica is a prime destination for ecotourists seeking exciting outdoor adventures.
As one web site described the country, Costa Rica offers "a wonderful blend of recreation, nature and cultural activities with 32 national parks, reserves and wildlife refuges all within a small tropical Paradise the size of West Virginia. Known internationally for its tropical rain forests, there are also massive mangrove, rare tropical dry forests, active and inactive volcanoes, mountainous cloud forests, and spectacular Pacific and Caribbean coasts. Over the past decade, Costa Rica has received much recognition for its actions in World Peace and Global environmental awareness."
Costa Rica's golf industry is still in its formative stages, making it comparable to that of Puerto Rico 50 years ago. That is not to say golf in Costa Rica is not outstanding. There are only six 18-hole golf courses in the entire country and all of them meet world class standards for quality of routing, maintenance and turf conditions, according to Landy Blank, founder of Costa Rica Golf Adventures Travel, the leading golf tour operator and golf equipment distributor in the country.
Being a new industry, golf in Costa Rica has its advantages. The courses are seldom crowded and on most days you don't need an advanced tee time. Fees of $80 and up are on a par with those of most other courses in the region. Attractive packages which include lower course fees are available through Costa Rica Golf Adventures as well as the golf resorts.
The first 18-hole course in Costa Rica, the Cariari Country Club opened in 1973. It is a short distance from the national capital of San José in the central valley. A George and Tom Fazio collaboration, the Cariari is private but offers exclusive access to guests of the Herradura Golf Resort & Conference Center and the Costa Rica Marriott. Caddies are required on this mature track.
Designed by Robert Trent Jones II, Playa Conchal Garra de León is an ocean course with panoramic views, sweeping fairways, and large undulating greens. It is a principal amenity of the Meliá Playa Conchal Beach & Golf Resort located south of Tamarindo on the Pacific coast. The course is surrounded by 2,000 acres of tropical dry forest whose inhabitants include red macaws, toucans and howler monkeys.
Hacienda Pinilla, located on Costa Rica's North Pacific coast near Flamingo Beach, is just a short drive from Meliá Playa Conchal's Garra de León Golf Course. This 18 hole championship links style layout was completed in February of 2001. Georgia-based architect Mike Young designed the course on what was a working cattle ranch and is now part of a 5,000 acre mega-development. The Marriott Corp. recently announced that it would build a JW Marriott hotel on the site which currently has a small hacienda style hotel.
Parque Valle del Sol, located 15 minutes from San José near the town of Santa Ana, is part of a golf course community being developed by Habitasul. The Brazilian firm bought the unfinished project in 1994, long after it was vacated for lack of money by an American developer. Habitasul hired Tracy May to redesign and build a new course featuring rolling hills and alpine vistas.
Located in Jaco on the mid Pacific coast, Los Sueños Marriott Ocean and Golf Resort is set amidst an 1,100-acre rain forest. The resort's golf course, La Iguana, was designed by Ted Robinson, who designed Sahalee, site of the 1998 PGA Championship outside Seattle. Beside its casino, spa services, tennis facilities and deep sea fishing, Los Sueños has the only full-service, modern marina between Mexico and South America, according to Landy Blank.
Cariari used to be considered Costa Rica's finest layout, but no more. The Arnold Palmer signature course at the Four Seasons Resort at Peninsula Papagayo is fast supplanting it in reputation. The spectacular course is laid out over sloping terrain between the rain forest and the Pacific, and offers sea views on 14 holes. Play is limited to guests of the very exclusive, posh resort that caters to the wealthiest travelers.
Travel experts predict that the number of courses in Costa Rica will double within 10-15 years when the country will then become a major player in the golf-travel industry. In the meantime, Landy Blank says, "Costa Rica is not so much a golf destination as a great country in which to play golf."
As for non-golf activities, one could spend weeks in Costa Rica and not exhaust all the options. Whitewater rafting, hiking through the rain forest, treks to the volcano rims, surfing, snook and tarpon fishing on the East Coast, and scuba diving are just the tip of the iceberg.
San José, regional headquarters of a growing number of corporations including Intel, has a philharmonic orchestra, national theater and a variety of international entertainers who stop at Costa Rica on their way to North or South America. The capital also features casino gambling. Limon on the Caribbean coast is known for Mardi Gras, while cultural festivals are scheduled throughout the year.
Climate
The high season in Costa Rica, December through April, is the dry season. The rainy season, which lasts from May to November, usually sees sunny mornings, with rain showers in late afternoon and evening. Secondary roads can become rutted during those months, and four-wheel drive vehicles are strongly recommended. Overall, the climate is tropical, with an average temperature of 72°F (22°C). It can be much hotter along the coastal areas of the country, and much cooler in the mountains.
Travel Specifics
Costa Rica has two international airports, Juan Santamaria International in San José and Daniel Oduber International in Liberia. Some resorts have their own airstrips and may be served by two domestic airlines, Nature Air (www.natureair.com) or Sansa (www.flysansa.com). Rental cars tend to be a bit pricey and the roads are generally very poor, so it advised to use private van or bus service for ground transportation. Some resorts and locales on the north Pacific coast are connected by boat service provided by a company called Anfina.