Guide to Golf Umbrellas: Stay Covered in Rain or Shine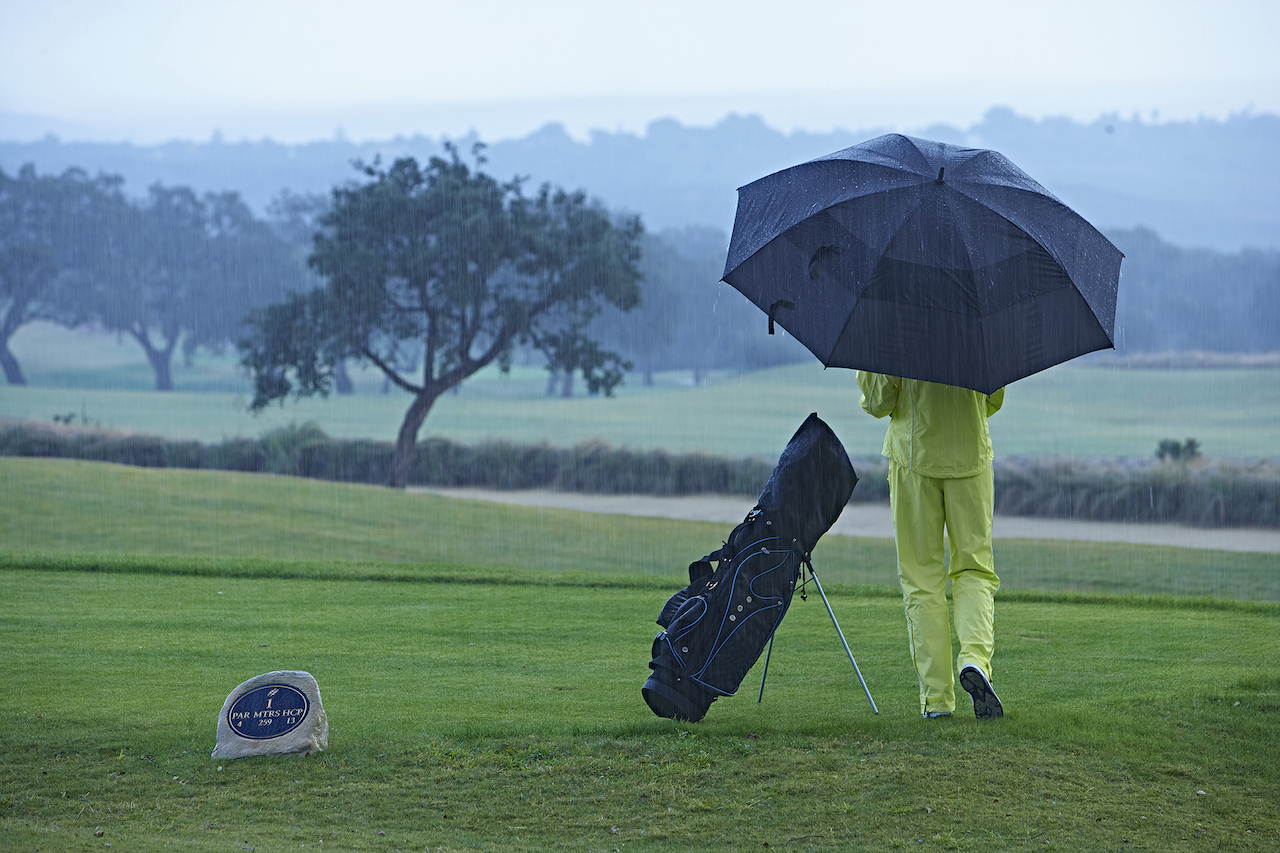 A golfer can control many things while on the course, everything from swing speed to club selection. It's one of the uncontrollable factors that is also one of the most frustrating – the weather. Be prepared for adverse weather conditions with a good golf umbrella.
What to Look For in a Golf Umbrella
Golf umbrellas come in many styles and sizes so you might be confused on which is best for you. When shopping for golf umbrellas, keep in mind that you will probably want a style large enough to protect you and your bag from the rain. Golf umbrellas are much larger than a standard umbrella, usually measuring anywhere from 50 to 70 inches in diameter.
The handle of a golf umbrella also differs from a typical cane-style umbrella. Since your golf umbrella will be stored in your bag instead of being carried, it has a straight handle. Most golf bags have a built-in umbrella holder for your convenience.
You'll also want to choose an umbrella with a fiberglass or carbon fiber shaft. Both are lightweight and safer than a metal shaft which is quite dangerous in a lightning storm.
Golf Umbrellas with Protection from the Elements
As golfers know, the wind gets pretty wicked on a wide-open golf course. A double canopy golf umbrella not only protects you from the rain, it extends farther down and is vented to ward off the wind as well. The unique design also prevents your umbrella from turning inside out in the wind.
If you are sensitive to the sun, consider a golf umbrella with built-in UV protection. Many UV umbrellas have a silver coating that absorbs harmful UVA and UVB rays. In addition to sun protection, the UV umbrellas also keep you feeling cooler. With the number of hours golfers spend out in the sun, a UV golf umbrella should be considered. SunTek brand umbrellas protect from both the sun and the rain.
Golf Brand or Umbrella Brand?
Most major golf brands offer umbrellas, including Callaway, Titleist, TaylorMade and Ping. Some golfers are loyal to a brand and prefer their umbrella to match their clubs.
Other golfers skip brand loyalty in favor of a solid umbrella brand. Weatherman brand umbrellas are quite popular on the golf course and the brand is even a supplier of the U.S. Ryder Cup Team. In 2018, Weatherman was named the official umbrella of the LPGA.
Weatherman umbrellas were developed by meteorologist Rick Reichmuth after years of encountering other failed umbrellas while on the job. Weatherman umbrellas are extremely durable and come in several styles, sizes and colors. The Weatherman golf umbrellas feature wind, rain and UV protection.
How Much Does a Golf Umbrella Cost?
Golf umbrellas range in price from under $10 to over $80. If you are looking to use your golf umbrella for several years, consider investing in a well-made, durable brand like a Weatherman which is backed by a lifetime guarantee.
There are plenty of golf umbrellas in the $20 to $30 range that perform well and look great. For example, the ZOMAKE is Amazon's top-selling golf umbrella. The umbrella costs just $19.99 and comes in a great selection of colors.
Play Through the Rain But Never in Lightning
Even if you have a top-line golf umbrella, always be aware of Mother Nature. While hardcore golfers are notorious for playing through some pretty serious weather conditions, you'll definitely want to play it safe when it comes to lightning. According to the United States National Oceanic and Atmospheric Association, five percent of lightning deaths and injuries occur on the golf course. A golf umbrella won't protect you from a thunderstorm so it's time to head for the clubhouse at the first sign of thunder or lightning.