Guide to Golf Lessons: Make the Most of Your Time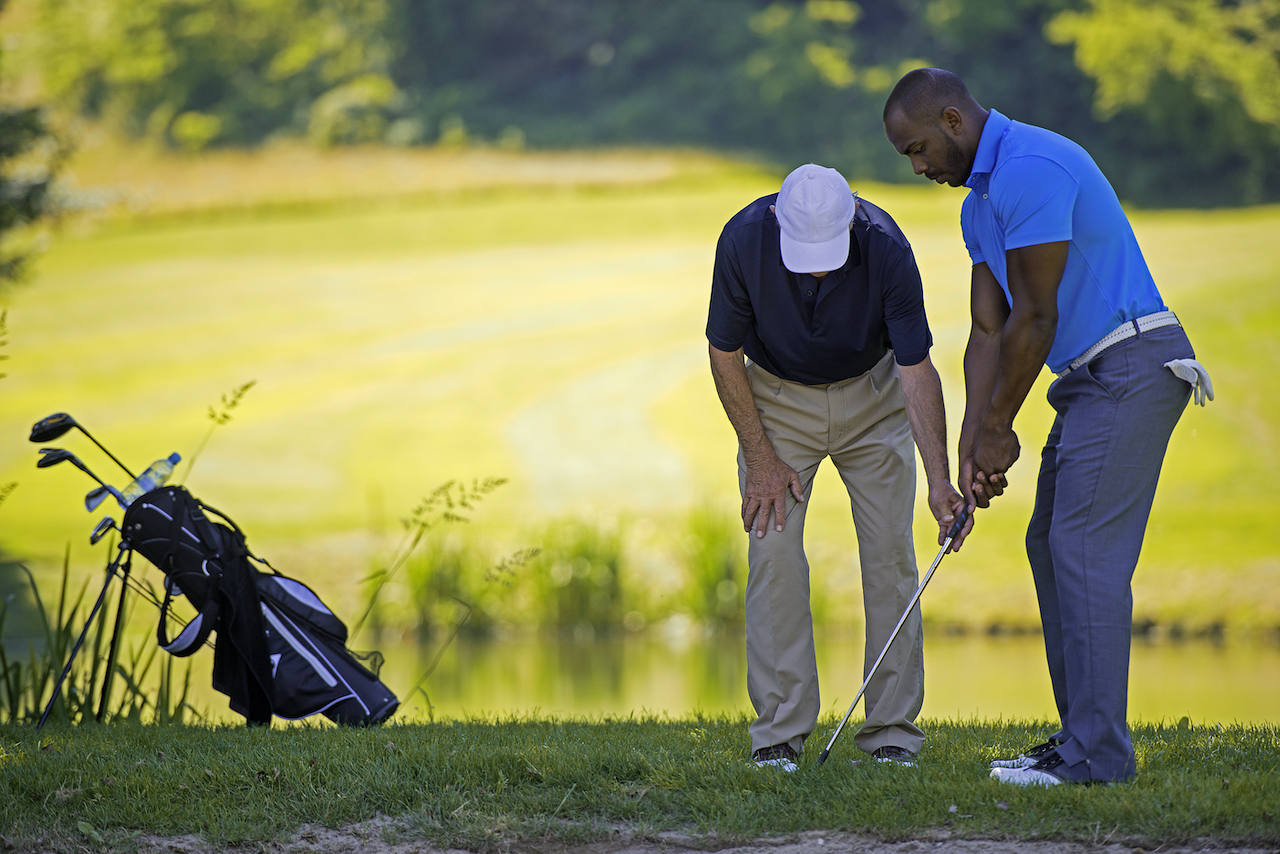 Golf is hard. There's just no way around it. Even if the game comes naturally to someone, the golf swing is a very unnatural motion. Setup, takeaway, swing plane, clear the hips, wrist hinge, follow through. One can't be expected to remember all of that. Thankfully, there are many options available to those in the market for golf lessons.
It's important to set your expectations early for what you would like to get out of golf lessons. After all, you're the one investing the money, so invest in realistic accomplishments for yourself.
If you're new to the game, welcome! Is your idea to learn the basics and see where the game takes you? Or are you ready to jump in headfirst and engulf your life in the game of golf?
A common tendency is to get started playing golf with your friends or a family member, but never take a lesson. More often than not, this can lead to some frustration with your progress on the golf course. Not to worry, it's never too late to seek professional help.
What to Expect
With the recent surge in people taking up the game, golf instructors are seeing new golf swings of all kinds. It's important to remember that you're not alone in learning the game, no matter what your age may be. Everyone starts somewhere.
A typical golf lesson begins with an instructor gathering some general information about you and your golf goals. From there, the instructor will want to see you swing the club to get a baseline. Depending on your skill level, the instructor could go to basics such as how to grip the golf club. If you are slightly more advanced, the first steps could be more swing-based.
You can expect a golf lesson to take anywhere from 30- 60 minutes, depending on what you've arranged. You should plan on arriving a few minutes early and dress as if you're going to play a round of golf. Most importantly, wear your golf shoes and bring a glove. Practice (and in this case learn) how you play.
Cost of Golf Lessons
What you're going to pay for golf lessons varies. Locations such as driving ranges and park districts could be the cheapest options, while public courses, upscale studios, and golf retailers will most likely be in the middle to high end on the cost scale.
You should anticipate a 30- 45 minute lesson costing around $40- $50. A 60-minute lesson could cost up to $100 or more, depending on the prestige of your instructor. Oftentimes, the location offering the lessons will have a lesson package that could save you some money. Also, group lessons (more information below) can be a way for you to save on cost. Lessons for budding junior golfers are usually much more affordable.
The sticker price of golf lessons can be surprising, but when you consider the return on investment, golf lessons will almost always make a better impact on your game than purchasing new equipment that easily costs more than a series of lessons.
Types of Lessons
Individual golf lessons involve the student being one-on-one with the instructor. This is the most common type of golf lesson. Depending on the location you've chosen, different swing technology options can be involved. More than likely, a launch monitor with video capability is used by the instructor to provide you with visual feedback and hard data about your swing.
Group lessons can be a great way to break into the game, and are also a great option if the individual style of lesson isn't for you. If you have a small group of friends, family, or coworkers that want to join you, it can be a lot of fun. Group lessons are most commonly found through your local park district or public golf course.
Online golf lessons are another option, although this route can be particularly challenging for those new to the game. There are a multitude of apps and websites that offer the capability of you uploading your swing videos for coaching tips. While this might be a good option for minor swing corrections, it's not an ideal way to learn the foundational skills of golf.
If you're in search of lessons for your junior golfer, you'll find some great options with PGA Junior Golf Camps and First Tee chapters across the U.S. As with all things kids, it's incredibly important to make sure that your junior golfer is having fun while learning the game.
If need guidance on a particular aspect of your game, you'll find many golf tips and videos available to get you to the next level.
How Many Lessons Should You Take?
There is no "magic number" when it comes to golf lessons. You'll find that many locations offer a 3-pack of lessons or more. You should be cognizant of your budget for golf game. After a short series of lessons, a good instructor can lay out a plan for you to help reach your goals. In most cases, a weekly or biweekly lesson will work best.
It's often recommended, especially in areas where it snows, to start golf lessons over the winter. That way you have time to build your golf muscles and knowledge ahead of the golf season.
Types of Instructors
You wouldn't take your car to be fixed by someone that doesn't know how to pump gas. Similarly, you don't want someone guiding your golf swing that doesn't have proper credentials. That's why it's important to seek out a certified PGA or LPGA instructor to get you on the right path.
Embarking on golf lessons can be an exciting time for you as it lays the groundwork for a game that you can play for life. It's important to remember that the early going can be tough, but every lesson and small accomplishment is a step closer to reaching your goals.