Playing Through in Golf: When and How it Should be Done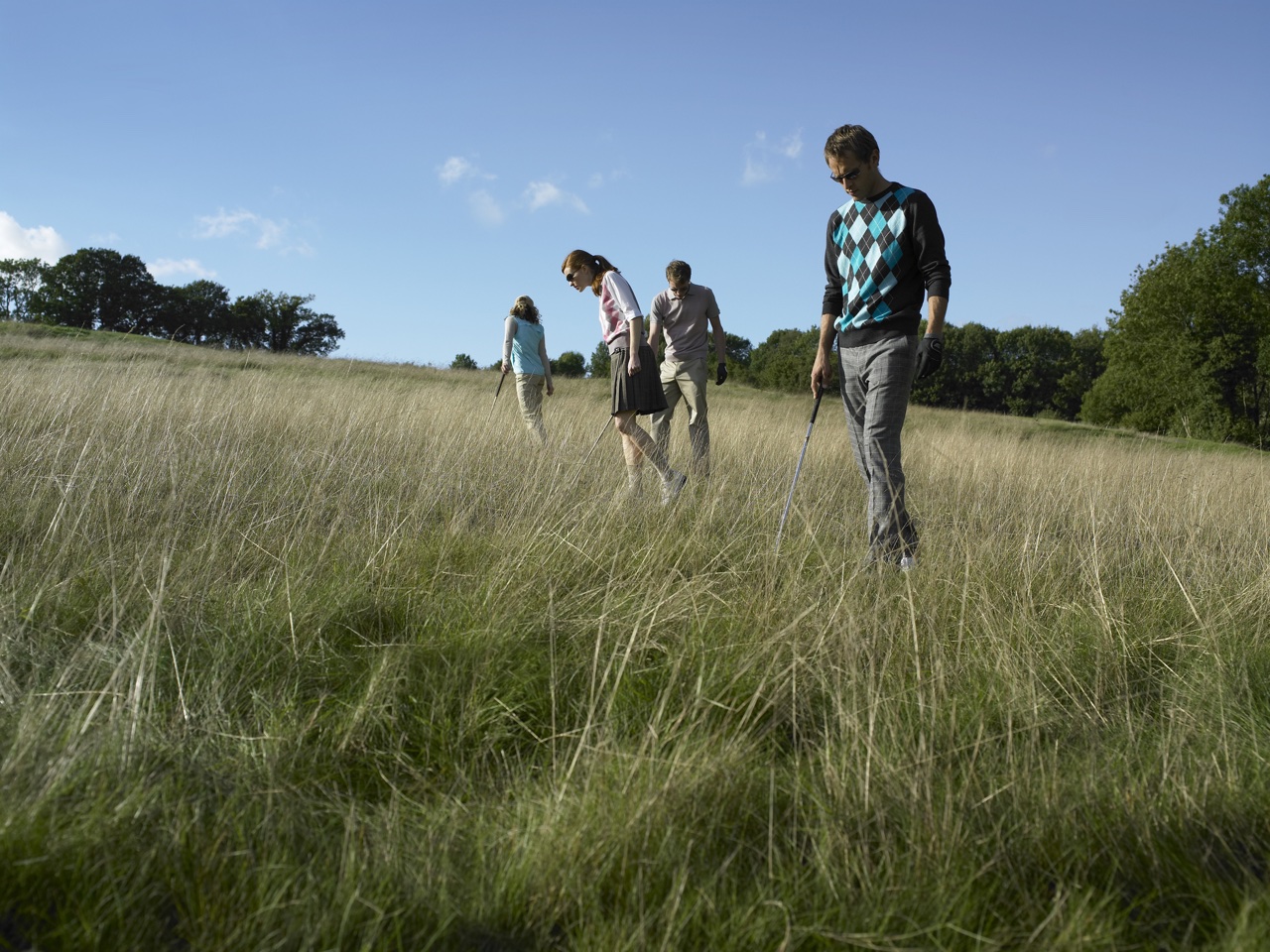 Nothing can ruin a good day on the golf course more than slow play. Waiting on every shot affects tempo and eventually muscles tighten, focus wanders and irritation sets is. Some days, it might be you or your group causing the holdup. You don't want to be "that guy or gal" and you start to ask yourself the important question:
When do you let a group play through in golf?
Reasons Behind Slow Golf Play
First, you'll want to look at what is causing the slow play. Some factors are out of your control like an overcrowded course, a group ahead of you playing slow or a format that requires some extra time on each hole. In those cases, it doesn't make sense to allow a group to play through because they are just going to be held up on the next hole.
A high-handicapper can also slow down a group (again, this might be you) and a foursome of weekend duffers is certainly going to play slower than a group of scratch golfers. Searching for errant balls in the woods takes time, as does reading three putts as opposed to one.
On the other hand, an overly analytical golfer can also be the cause of slow play. Brooks Koepka has had a few opinions on the methodical play of Bryson DeChambeau, proof that even the world's best golfers are affected by slow play.
Golfers who choose to walk with a caddie or carry their own bag are slow when compared to golfers in carts. If a course allows both options, it is common to see differences in the pace of play.
It's Golf Etiquette – Know the Signs
Since holes vary in length and difficulty, a group might catch up to you on occasion during a round. If the holdup is happening on every hole or worse, on every shot, it's time to consider letting the group play through.
You might notice other signs that you are holding up play such as the other golfers standing around on the tee or fairway. Some less-than-patient golfers might even hit a shot or two a few yards from your group, also poor golf etiquette, but a pretty effective way of getting their message across.
The biggest indicator when it comes to pace of play is what lies ahead of you. If there is a full hole open in front of your group and the group behind is waiting, wave them ahead.
The Best Time to Let a Group Play Through
If your foursome has just teed off and you notice the group behind you is made up of just two or three golfers, consider letting them play through immediately. Otherwise, play a few holes before you let a group play through. It could be that they just played a quick hole and then they end up holding up your group the entire day.
The tee is usually the best place to allow a group to play through. Both groups can hit tee shots but the faster group moves on to their second shot while the slower group remains behind on the tee. Par-5 holes are a great place to allow through play since there will be less time standing around as you wait (as opposed to a par-3 where everybody must putt out).
It Might Also Benefit Your Game
No golfer wants to feel rushed before a shot and if you sense that the group behind is breathing down your neck on every hole, it can have a negative effect on your score. Sometimes your group is playing at a good pace but the group behind is still playing faster. Take a deep breath, allow them to play ahead and go back to a pace you are comfortable with.
Follow the Golden Rule of Playing Through
Some golf courses have rangers who help control the pace of play, but often, knowing when to let a group play through comes down to proper golf etiquette. Remember, it's no fun when you are the golfer waiting so do the right thing for the good of the game.
Image: Alan Thornton/The Image Bank via Getty Images