TaylorMade SIM Driver Review
The SIM Driver series is TaylorMade's follow up to the popular M-series of drivers. Their challenge? How to make a good thing even better. In this new series of drivers, TaylorMade focuses on refining the innovations of the M-series. SIM stands for "shape in motion." The focus is on reducing drag in the last third of the downswing.
The company is known for testing the limits of clubspeed speed while staying within legal limits. The main changes with SIM drivers are a smaller clubhead with improved aerodynamics and the inertia generator positioned at a 20 degree angle.
Common Features: SIM Driver and M6 Drivers
For the most part, SIM Drivers improve on the features that were already working well in the M6 driver. These include:
Speed injected twist face: the clubface is injected with a tuning resin that results in straighter shots on off center strikes

Larger sweet spot: on the new SIM drivers, this is marketed as inverted cone technology.

Aerodynamic Sole design: the rear weight and sole aerodynamics were features of the M6 driver. In the new SIM drivers, the sole aerodynamics have been refined so that the sole is at an optimum angle (45 degrees) at impact and the angle of the rear weight has been adjusted to reduce drag.
Inertia Generator and Asymmetrical Sole
Besides the new clubhead shape, the main selling points of the SIM drivers are the inertia generator and asymmetrical sole. The inertia generator sits at the extreme rear of the club at a 20 degree angle to increase forgiveness and reduce drag on the downswing. The asymmetrical sole improves aerodynamics and forgiveness.
Design
The SIM drivers have a more compact clubhead size than the M6. This is part of the design improvements to improve aerodynamics. From the top down, the styling of the clubs is very similar. One notable difference is that the rear weight is larger and sits at a 20 degree angle on the SIM driver. The clubhead has a modern design featuring carbon and arctic white accents. The SIM driver has a great sound. It's dull and muted because of the carbon.
Which TaylorMade Drivers Do The Pros Use?
SIM Driver
Tiger Woods
Dustin Jonhson
Collin Morikawa
Jon Rahm
Matthew Wolff
Rory McIlroy
Sung Hyun Park
Maria Fassi (LPGA)
Charley Hull (LPGA)
SIM MAX
Jason Day
Sierra Brooks (LPGA)
Differences Between the SIM, SIM MAX and SIM MAX D
There are progressive face heights between the three drivers - SIM is the lowest, SIM MAX is in the middle and SIM MAX D is the highest. With this line, TaylorMade has created options for high, mid and low handicappers all within one line.
The SIM Driver is favored by PGA Pros and it offers piercing ball flight with low spin. The MAX is more forgiving with a higher trajectory and the SIM MAX D is the easiest to hit of the three with high launch, while helping to correct draw-bias.
Specifications
Lie, volume and length are consistent across all three drivers. Some versions of the club are only available right handed: SIM Driver with 8 degree loft, SIM MAX D with 12 degree loft are only available as right handed clubs and the women's drivers.
The loft and the face angle can be customized on all three drivers, +/- 2 degrees of loft and 4 degrees on the face angle. Only the SIM Driver has an additional option for customization - sliding weight technology allows you to adjust draw/fade bias in a 20 gram range. This is not offered on the MAX or MAX D models.
Here is an overview of the specifications for the SIM Drivers:
| | | | | |
| --- | --- | --- | --- | --- |
| Club | Loft | Lie | Volume | Length |
| SIM | 8.0 º/9.0 º/10.5º | 56 º- 60 º | 460CC | 45.75" |
| SIM MAX | 9.0 º/10.5 º/12.0º | 56 º- 60 º | 460CC | 45.75" |
| SIM MAX D | 9.0 º/10.5 º/12.0º | 56 º- 60 º | 460CC | 45.75" |
Custom Shaft Options
TaylorMade offers over 100 metalwood shaft options. Some come standard, and others are an additional $60-$300 USD, depending on the make and model. Choosing the right shaft is an important factor in customizing your driver. Here are examples of the shaft options you'll find at each price point.
Standard shafts (no additional charge)
Aldila Rogue Silver 110 60
Fujikura Ventus Blue 6
Fujikura Ventus Red 5
KBS Hybrid (60, 70 and 80)
MCA Diamana Limited (60, 65, 75)
MCA Tensei CK (60,70) in white/blue
Project X Hzrdus (60, 70) in smoke green/smoke yellow/black
KBS Hybrid
Mid-range shafts ($60 additional charge)
Aldila Quaranta Blue 40
Aldila NV Green 65/75
Fujikura Pro 2.0
Tensei Pro White 90 Hybrid
Premium Shafts ($300 additional charge)
Fujikura Ventus w/ Velocore (6,7) in black or blue
Graphite Design Tour AD XC (6,7)
Graphite Design Tour AD IC (6,7)
Graphite Design Tour AD DI (6,7, 85 hybrid)
MCA Tensei Pro (60,70) in white or orange
Which Level of Golfer is a SIM Driver Best For?
Overall, the SIM Drivers are well designed with good feel, distance and plenty of customization options. According to independent testers, you can pick up distance gains of 10-20 yards. The real opportunity here is increasing speed. Of course, being professionally fitted is also a factor in performance outcomes.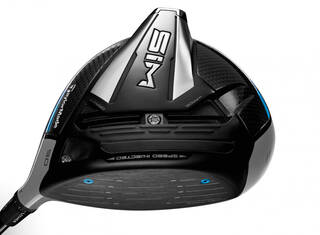 For a golfer with a lower swing speed, a SIM driver would not be a good choice, as it could reduce their distance. The SIM MAX D offers the highest forgiveness of the three models, so this would be a good starting point. For a high handicap or casual golfer, these drivers are an investment at over $400 USD.
On the other hand, golfers with high swing speeds can really benefit as the low spin of the SIM driver can speed gains. For low handicap golfers, these drivers are at a mid-range price as far as premium drivers go and offer excellent value and performance gains.
Where to buy TaylorMade SIM Drivers