History of Nike Golf: Highlights of Its Path and Products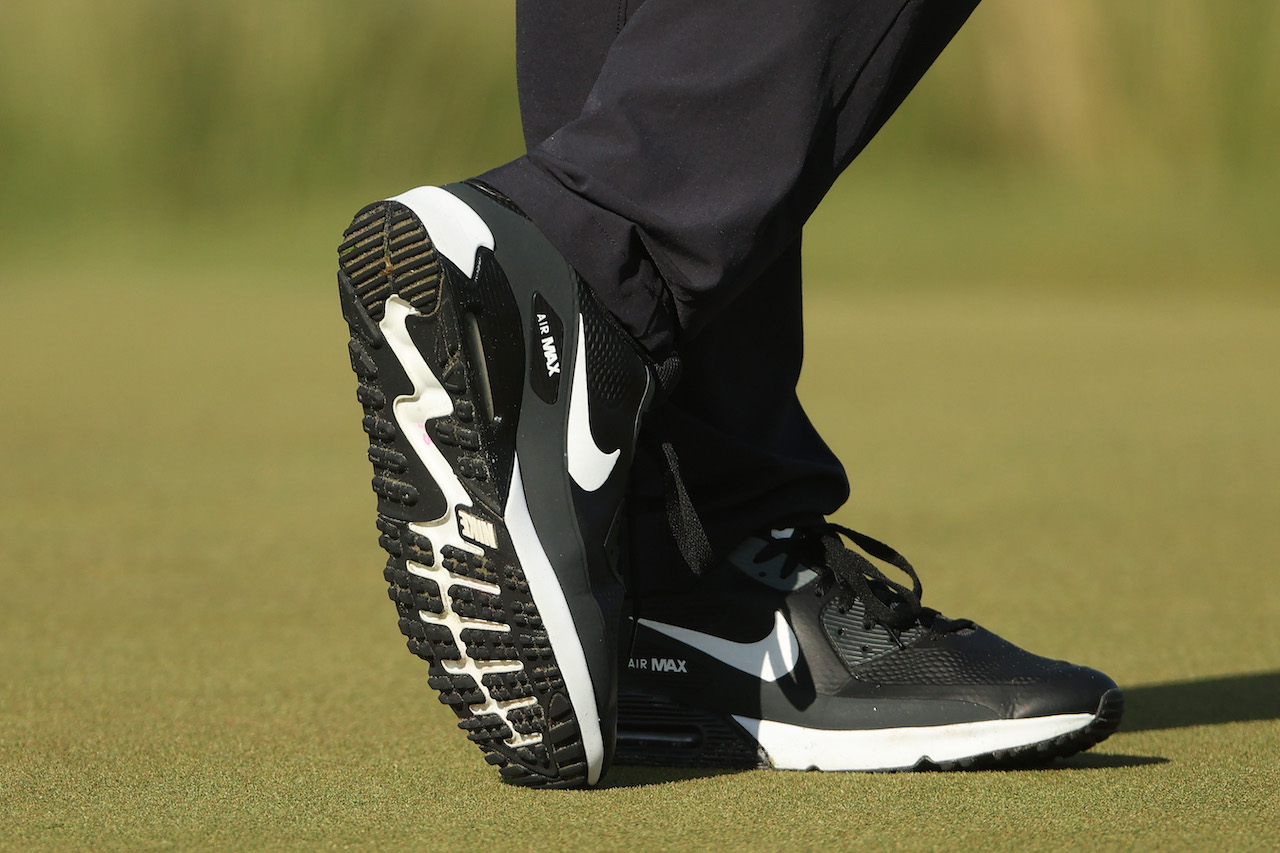 After Nike's earnings began to decline in 1983, the company entered the golf space, releasing its first line of golf shoes in 1984. Over the next 30-plus years, Nike Golf experienced a roller-coaster ride of ups and downs.
Nike Golf Shoes, Apparel & Accessories
The Nike Golf line initially focused on shoes and apparel, and in 1985 Nike signed top professionals Seve Ballesteros and Curtis Strange.
Juli Inkster was the first woman to sign with Nike followed by Kathy Baker in 1985. The first collegiate team to sign with the brand was the University of Georgia women's golf team in 1986, followed by the Oklahoma State University men's team in 1987, which went on to win the NCAA Championship that year.
Nike expanded its line of accessories with its first golf glove in 1989 and towels in 1994, and the famous Tiger Woods red Sunday polo in 1997.
In 2003, Nike became the second-best selling shoe in golf, behind FootJoy. Nike Golf continued its meteoric rise in the golf apparel market, becoming the No. 1 brand globally in 2006.
Tiger Woods
Nike continued its strategy of signing top playing professionals in 1995 by signing budding superstar Tiger Woods to a 20-year, $40 million endorsement contract even though the company did not have a line of golf equipment or golf balls at the time. His contract was unprecedented at the time, and the brand used his famous "Hello, World," comment in various marketing campaigns to let the world know Tiger had arrived.
Woods put Nike equipment into play in 2000 when he won the Memorial with the Tour Accuracy ball. After that victory he employed the Nike ball full-time and won golf's next four majors, completing the Tiger Slam.
Two years later, Woods put a full Nike bag in play at the WGC-AMEX in Ireland.
Nike Golf
Nike Golf was established in 1998, when Nike was among the top five marketers of golfing apparel. Nike formed its golf line to manufacture and sell golf clubs along and balls to cash in on the growing golf market.
Golf Equipment
Fourteen years after releasing their first shoes, Nike launched its first golf balls in 1998 — the Nike Precision Tour Control, Spin Control, Distance Control and Precision Control.
The company's first clubs were introduced for sale in 2002, but David Duval was the first Tour player to win a Tour event — a major championship to boot — with Nike clubs when he won the 2001 British Open.
Nike continued its proven strategy of signing tour professionals when it signed Rory McIlroy for 10 years and $200 million in 2013.
Popular Nike Golf Clubs
One of Nike Golf's most notorious clubs was the SQ Sumo2 Driver which launched in 2006. The driver used a composite crown and square head instead of the round shape to push weight to the back corners of the head for added forgiveness. Despite the unorthodox shape, the Sumo2 may be best known for its distinctive loud and high-pitched sound that could be heard throughout the golf course.
Another popular line of Nike Clubs were the Vapor Flex 440 Driver, the last one Nike made in 2017. This club was different from the Covert clubs that struggled to compete with the other low-spin drivers. The Vapor Flex was made up of a carbon fiber-reinforced RZN material that featured a weight-saving scheme that boosted performance. This model was one of the company's best-performing in its history.
The Vapor Fly Pro Irons were one of the brand's best irons and one of the last Nike launched in 2016. The irons featured a mid-sized hosel which allowed more forgiveness and offered a level of performance and comfort around the greens. They had a large clubhead to help achieve better impact and increase speed.
Nike's VR Pro Combo Irons were probably the brand's most popular when they launched in 2010. The combo iron concept was to provide players more forgiving cavity-back irons in the longer, harder to hit irons, and progress into better feeling and more workable blades for the easier to hit short irons. They came with the High-Frequency x3x Groove pattern that helped give players a repeatable ball flight.
Nike Golf Returns to Apparel
In 2016, Nike Golf shocked the sporting world by announcing it would no longer produce hard goods, including golf clubs or balls. Instead, Nike focused on golf shoes, apparel and accessories. The brand continues to launch accessories like bags, gloves, towels, clothing, hats, belts and shoes with new and creative releases each year.
Nike Golf Professional Players
Even though Nike Golf is out of the hard goods business, many professional players continue their sponsorship deals with Nike Golf for apparel.
| | |
| --- | --- |
| PGA Tour Players | LPGA Tour Players |
| Tiger Woods | Michelle Wie West |
| Rory McIlroy | Suzann Pettersen |
| Brooks Koepka | |
| Tony Finau | |
| Jason Day | |
| Matthew Wolff | |
Image: Patrick Smith/Getty Images Sport via Getty Images