Maxfli Tour vs Tour X: Tested & Reviewed
It's official, low and mid-handicap golfers no longer need to pay premium prices to play a premium performance golf ball, thanks to the Maxfli Tour and Tour X. 
Sure, the Pro V1 & Pro V1x have earned their place as the unofficial gold standard of premium golf balls, but the budget-friendly alternatives from Maxfli, the Tour and Tour X, are proof you can harness top-end performance without the nauseating price.
We took both of these Maxfli models out for a spin to compare how they performed against each other, and the competition. Here's our complete review of the Maxfli Tour and Tour X golf balls.
Spoiler Alert: Maxfli Tour & Tour X Final Verdict
Maxfli's premium offerings are really impressive. The biggest takeaway from our testing was the control around the greens, but we were also impressed with the distance off the tee, and everything in between. We also found these balls to be highly durable, as there were no scrapes or scuffs on any of the balls we tested.
Mid and low-handicap golfers with swing speeds of 95+ mph who want distance off the tee, like to shape shots, and need a ball that's crafty around the greens, but are tired of spending $50 or more on a dozen balls, should give these a try.
Maxfli Tour and Tour X Overview
$40 | SHOP NOW
Before we detail how the Tour and Tour X performed in our testing, let's take a look at how the two balls compare to each other, the pros and cons, and which option is likely the better fit for you.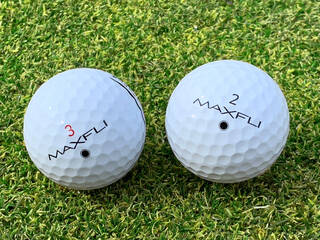 Maxfli Tour and Tour X Specs
While both balls are urethane-covered, higher compression balls, there are some subtle differences between the Maxfli Tour and Tour X. Most notably, the Tour X is a four-piece ball, while the Tour is 3-pieces. The X also has a slightly higher compression, which helps it reach higher top-end distance.
| | | |
| --- | --- | --- |
| Feature | Maxfli Tour | Maxfli Tour X |
| Price | $40 | SHOP NOW | $40 | SHOP NOW |
| Layers | 3 | 4 |
| Cover | Urethane | Urethane |
| Spin (Driver-Iron-Greenside) | Low-Mid-High | Low-Higher-Mid |
| Launch | Mid | Mid-High |
| Compression | 91 | 100 |
| Player Profile | 95+ mph swing; prioritizes short game, wants penetrating ball flight | 95+ mph swing; prioritizes distance, wants higher ball flight |
Tour & Tour X Pros & Cons
Given the price and performance, there's a lot to love about the Tour and Tour X balls from Maxfli, but like any ball, they're not for every golfer. 
The better control you have over your shot shape and trajectory, the better this ball fits your game. Golfers who sometimes struggle with a hook or slice may find these balls to be unforgiving and would benefit more from a ball that prioritizes straight flight over spin. 
RELATED: The Straightest Golf Balls to Cure Your Slice or Hook
Similarly, the higher compression ratings of these balls mean they're best for players with faster swing speeds. Players with slower swing speeds (even low-handicappers) may see better performance from a softer, lower-compression ball. Low handicappers who don't swing fast enough to reap the performance of these balls should consider the Maxfli Tour S, the lower-compression sibling to the Tour and Tour X.
Pros:
Excellent greenside spin and control
Premium-level distance
Workable
Urethane cover
One of, if not the best value premium ball of 2023
Cons:
On the firm end; Players who need a softer ball should consider Maxfli Tour S
While workable, not forgiving to golfers who hook or slice
Which Golfers Should Play the Maxfli Tour?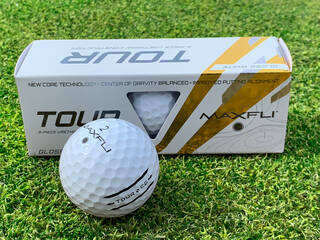 The Maxfli Tour best fits mid-to-low handicap golfers who swing driver 95 mph or faster, and prioritize greenside feel and control. They either like a penetrating ball flight, or want a ball that will help lower their existing ball flight. Distance is important, but it doesn't trump short-game control.
Which Golfers Should Play the Maxfli Tour X?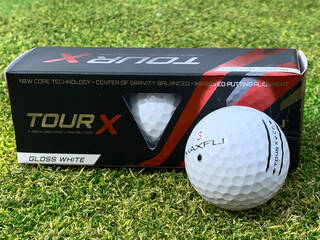 Like the Tour, the Maxfli Tour X is a great ball for mid-to-low handicap players with moderate to fast swing speeds, 95 mph or above with a driver.
However, players who prioritize maximum distance over greenside feel, and either prefer a higher ball flight, or need a ball that will help them launch it a little higher, fit better into the Tour X than the Tour.
Maxfli Tour vs. Tour X
We compared the Maxfli Tour and Tour X with some serious testing at the practice green and on the course. Here's how they stacked up.
| | |
| --- | --- |
| Category | Winner |
| Off the Tee | Tour X |
| Approach | Tour X |
| Short Game | Tour |
| Overall | Tour |
Off the Tee
Off the tee, the Tour X churned out higher top-end distance, but both balls rewarded well-struck drives with satisfying distance.
Approach
Both balls performed exactly how you'd expect a premium ball to perform in the approach game. Both held greens with ease off irons and wedges. Distances in the approach game were consistent with other balls in the class, and as premium balls, both the Tour and Tour X are easy to shape and flight however you desire.
The Tour X launched just a touch higher than the Tour, which made those flushed mid-iron shots even more satisfying, which is why we gave the edge in this category to the Tour X. 
However, players who prefer a penetrating flight, or already hit the ball high, perhaps too high, should favor the Tour in this category.
Short Game
We were particularly impressed with the Tour and Tour X around the greens. Both balls were easy to control from greenside chips, making the two-hop-and-stop chip shot look easy. 
Comparing the two, the Tour had the edge over the Tour X in greenside control. It launched just a touch lower on chip shots and stopped a little quicker, making it easier to control. The Tour X still performed exceptionally, but the point goes to the Tour.
Overall
Even though the Tour X technically won more categories than the Tour, the thrill of hitting creative chips and pitches around the green with the Tour outweighed a couple yards off the tee or a slightly higher launch window from the Tour X, so we gave the overall nod to the Tour.
Value
Even at the one-box price of $40 per dozen, the Tour and Tour X are more than a 20% savings over the Pro V line. When you buy in bulk, you save even more. Two dozen balls cost $35 per dozen, and if you buy four boxes at a time, they're just $30 per dozen, which is getting close to half the price of the $53 per dozen Pro V1 and Pro V1x.
Find Which Model is Best for You
Every golfer is different, and every player has different demands from their ball than others. Golfers may even experience different results than we did with their own swings and impact conditions. 
With that said, and given the affordability of these balls, we strongly recommend any low-to-mid handicap golfer on the market for a budget-friendly, premium ball to do their own testing and comparison between the two to find which one best suits their game.