7 Cool Products From the 2023 PGA Show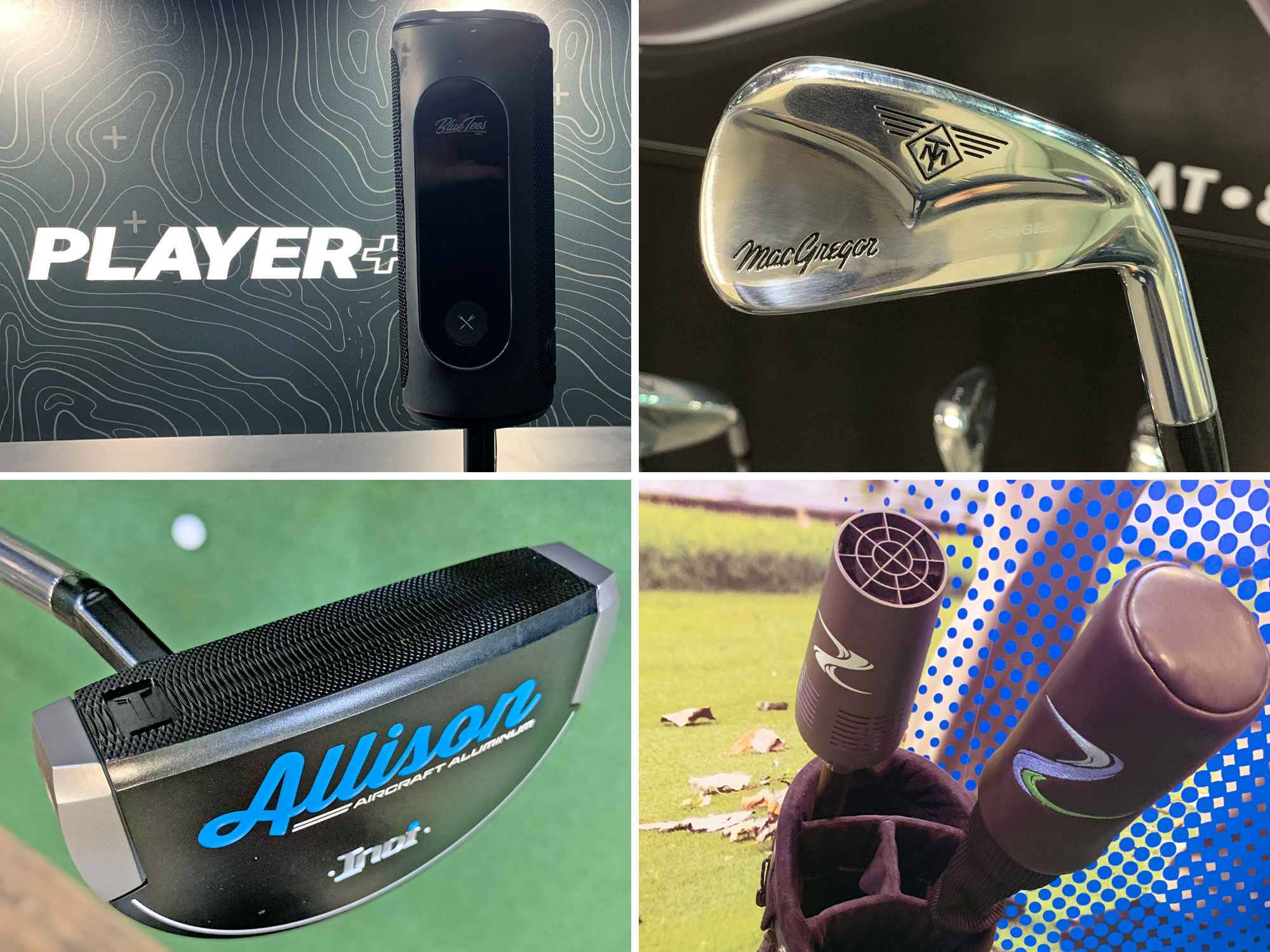 The PGA Show is the melting pot of the golf industry. The annual extravaganza in Orlando unites the most established golf brands with some head-turning gizmos, gadgets, and do-dads. Some are comical, but others are downright cool. I spent three days at the 2023 PGA Show and these are seven of the absolute coolest products I found.
Making the Cool Club
It would be impossible to document, rate, review, and rank every product at the PGA Show. With essentially every player in the golf industry, from equipment to apparel to tech, travel and beyond, there's just no way for one person to digest it all. Instead, we focused on products that the regular weekend warrior would appreciate. These seven products give you the "why didn't I think of that?" feeling or are mind-bogglingly innovative.
PuttLink Smart Ball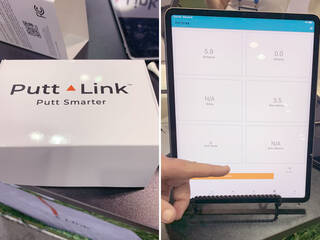 The PuttLink Smart Ball is like a launch monitor for your putting stroke built into a golf ball. The product itself is a golf ball with technology inside that pairs via Bluetooth with the PuttLink app. When you hit a putt with the PuttLink Smart Ball, the app immediately tracks and displays crucial data like putt distance, velocity, whether the putt was made, and sink velocity (the speed at which the ball entered the hole).
Having this information not only makes practice more fun and competitive, but more effective as well.
Zoom Broom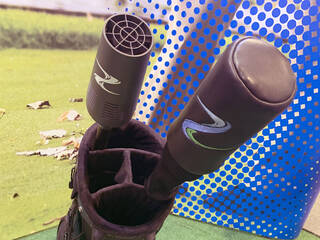 How many times has someone in your foursome joked "I'm gonna bring my leaf blower next time" during an autumn round of golf? Leaves on a golf course are a nuisance that interfere with important putts and your ability to find a ball that innocently finished in the rough.
The Zoom Broom is the solution. It's a battery-powered leaf-blower on a shaft that's designed to fit perfectly into a golf bag. With about 30 minutes of battery life per charge, it holds more than enough juice to clear your line a few time per side on a crisp fall day. No more losing balls under trees just off the fairway? That's pretty cool.
deWiz Golf Swing Modifier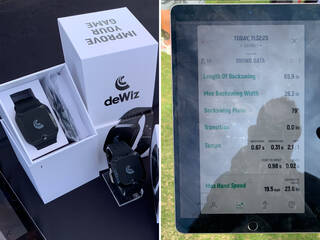 If shock therapy works to train dogs, why can't it work to train your golf swing? The folks who make the deWiz Golf Swing Modifier may not use those exact words, but this wearable sends instantaneous feedback that the golfer can feel on their wrist when their swing strays from the prescribed parameters. Translation? Say you want to dial in your three-quarter wedge swing. You tell the deWiz app how long of a backswing you want to take, and if your backswing goes beyond that parameter, ZAP!
Make no mistake, calling the deWiz a shock-collar for your golf swing would be a gross over-simplification. Take one swing with the deWiz on your wrist and you'll get instantaneous data, including an animation of your swing from down-the-line and face-on angles, the length, width, and plane of your backswing, transition, tempo, and hand speed. Golfers can use data from deWiz to determine the optimal parameters for their swing, and begin improving immediately.
If you're like me and your "feels" can't be trusted, deWiz gives you the data you need. From a coolness standpoint, the deWiz Golf Swing Modifier may take the cake from the 2023 PGA Show. 
MacGregor MT-86 Irons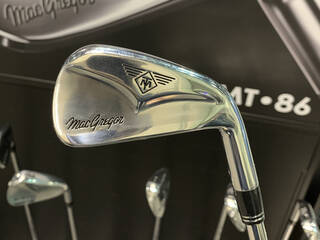 Before-and-afters of refinished vintage MacGregor irons is one of the coolest side-projects of golf Instagrammers over the past year. The finished products are always a thing of beauty. But they may also be a thing of the past, because MacGregor released a classic-looking, modern-playing forged iron at the 2023 PGA Show, the MT-86 irons.
The forged irons come in Pro and OS (offset) varieties and we honestly can't decide which is its coolest feature: the stunning beauty, elite performance, or juicy price-tag at just $899, at least $500 less than many of its competitors.
Kid Caddie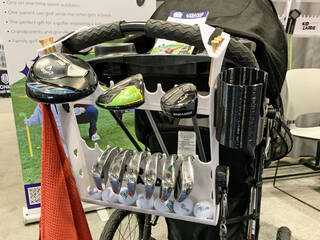 Having a baby or toddler is no longer an excuse not to play golf, thanks to the Kid Caddie. This super cool invention converts your child's jogging stroller into a golf bag. It's got room for up to 18 clubs, balls, tees, a towel, and drinks.
If you're already taking your little one for a stroll, why not do it on a golf course, introduce your child to the game, and sneak in nine holes while you're at it? Parents who have been forced to de-prioritize golf during those first few years can attest to how cool this is.
Indi Golf Putters
I stroked a ton of putts at the PGA Show, using some of the most popular putters, and some that most golfers have never heard of. Indi Golf isn't the only brand that you've probably never heard of that I'll rave about in my post-PGA Show roundups, but they are the first.
I could tell you about how cool the materials and technology are that allow for maximum forgiveness with some serious perimeter weighting, but I'd rather skip straight to its performance.
I simply picked up the Indi Golf Allison putter and drained nine straight 8-footers. It sets up so nicely and sits perfectly behind the ball, and gave me a stable, repeatable stroke with perfect distance control and aim. The feel off the CNC milled face is incredibly satisfying. Standing over an 8-footer knowing it's going in the hole is about as cool as it gets.
Blue Tees Player+ Golf Bluetooth Speaker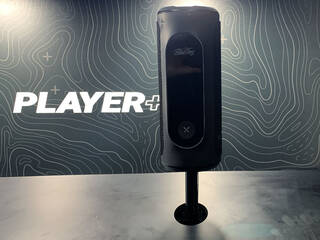 You're going to hear more from us on golf Bluetooth speakers from the 2023 PGA Show, but spoiler alert, the Blue Tees Player+ is our overall favorite.
In addition to 360-degree sound, the Player+ is the only golf Bluetooth speaker we could find that boasts a glass touchscreen displaying hole layout, front-center-back distances, drive distance, and distance to hazards. It's also got a powerful magnet to stick right to your cart throughout the round. Despite some really cool golf Bluetooth speakers from several brands, there simply isn't another speaker that offers all that.
Available Spring 2023
Stay Cool
By no means is this a list of the seven best products from the PGA Show. Rather, it's a list of seven products that, after some time to let it all sink in, stand out for their innovation, effectiveness, and overall coolness.