The Most Forgiving Drivers of 2022 to Hit More Fairways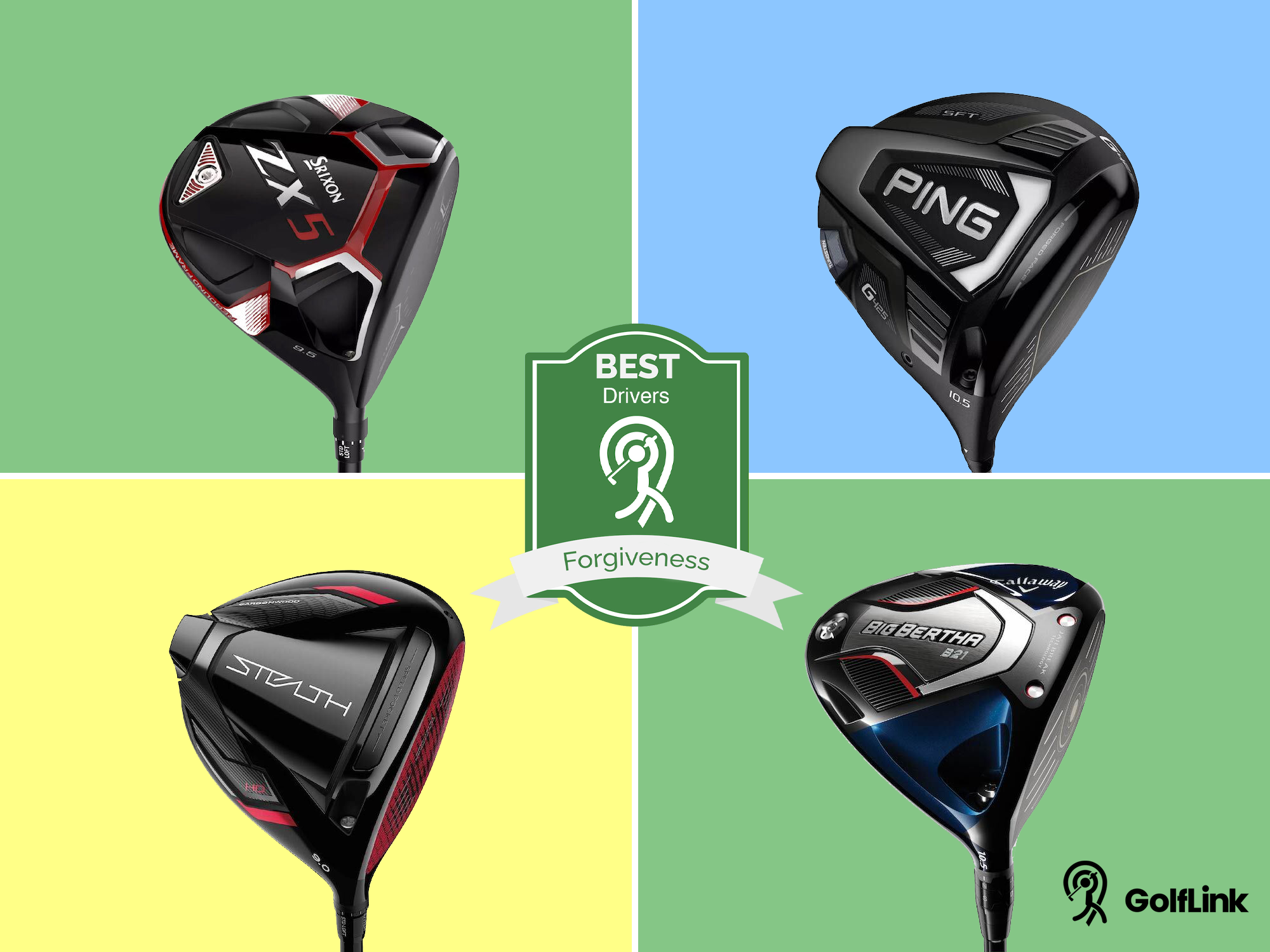 Some drivers are built for forgiveness, while others are designed to give highly-skilled players the freedom to flight and shape shots. If you want to keep your game as simple and easy as possible, there's no better place to start than by gaming a forgiving driver.
At GolfLink, we went through the latest drivers to find the most forgiving drivers of 2022. We hope you find a driver on this list that keeps your game in the middle of the fairway.
10 Most Forgiving Drivers
When tested countless drivers in search of the models that gave us the tightest dispersion, both left and right. As mid-handicappers, and for mid-handicappers, we purposely hit some shots on the toe, the heel, and occasionally found the middle of the clubface. After all that, we bring you this list of the 10 most forgiving drivers of 2022.
| | | | |
| --- | --- | --- | --- |
| Driver | Price | Player Profile | Standout Feature |
| Srixon ZX5 | $500 | Looking for the most forgiving driver on the market | Tight dispersion with high launch |
| PING G425 SFT | $550 | Looking for a great overall driver with consistency | True draw bias without offset |
| Callaway Rogue ST MAX | $550 | Players looking for high MOI and draw-bias | Side spin and dispersion |
| Mizuno ST-X 220 | $450 | Mizuno fans and those who are curious | Clean look and surprising forgiveness |
| TaylorMade Stealth HD | $580 | The player who wants the latest technology | Overall performance meets hype |
| Titleist TSi2 | $550 | Most forgiving Titleist for Titleist players | Better player's profile with everyday player forgiveness |
| PXG 0311 XF GEN5 | $500 | PXG players who want ultimate forgiveness | Playable by any level of golfer |
| Callaway Big Bertha B21 | $350 | Looking for best combination of distance and forgiveness | Sleek navy blue design and chevron alignment |
| Wilson Launch Pad 2 | $350 | The player who wants new technology without spending $600 | Outperforms its $350 price tag |
| Cobra LTDx MAX | $500 | Looking for a modern design with tight dispersion | Multiple points of adjustability |
What Makes a Driver Forgiving?
It's hard to separate marketing spin from facts to determine how much a driver can truly impact your game. Given the equipment limitations outlined in the Rules of Golf, all golf equipment manufacturers start on a level playing field. There are, however, three important factors to consider when looking for the most forgiving driver. Moment of Inertia (MOI) and Center of Gravity (CG) in a driver's head, along with pairing the right head with the right shaft for your game, combine to make a massive difference in a driver's performance, particularly how straight and consistently you hit it.
Moment of Inertia (MOI)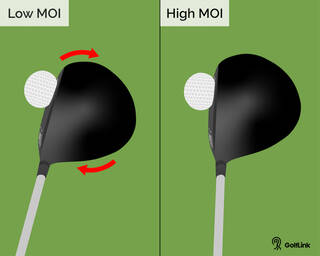 Manufacturers commonly refer to Moment of Inertia (MOI) to sell drivers. MOI refers to the driver head's resistance to twisting at impact. The higher the MOI, the better the driver is rated for staying squared in your transition to impact.
Of course, the better a driver is at staying square through impact, the straighter shots it will produce. In the context of golf club forgiveness, hitting straighter shots is the defining factor. That's why MOI is such an important factor in a driver's forgiveness. 
Center of Gravity (CG)
A driver's Center of Gravity (CG) is a very important trait. CG impacts both the launch and direction of your ball. A driver's CG location is influenced by where the manufacturer puts weight in the driver's head. A CG that is concentrated low and back produces much a higher trajectory than a CG that's positioned high and back.
CG affects different players in different ways, which is why it's wise to research the CG of a driver before you make a purchase. Drivers with a draw bias, which many on this list feature, often have weight towards the heel of the club. Drivers with adjustable weights allow you the option to move the CG depending on your needs. Adjustable weights also help players who improve their swing and need slightly different characteristics from their driver than they did when they purchased it.
Shaft
Pairing the correct shaft with your driver head will have a huge impact on how forgiving your driver is. You might find a driver head that feels and looks great, but if you have a shaft that's too stiff and unforgiving, you won't see the best performance. We always recommend being fit by a certified fitter before investing in a new driver.
The Best Driver for Forgiveness: Srixon ZX5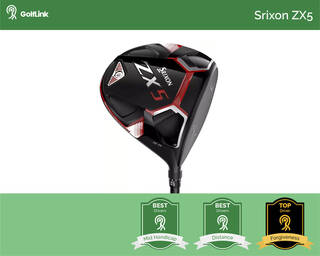 Our choice as the most forgiving driver of 2022 might not be the driver you expected. We attest that the Srixon ZX5 driver produced the best dispersion and most overall forgiveness of any driver that we tested. Particularly impressive were the shots that we purposely struck low on the face, where we saw loft and total distance that kept us in the fairway instead of the rough.
All Srixon drivers have a technology called Rebound Frame, which Srixon likens to "a spring within a spring" to boost the so-called tampoline effect, resulting in significant distance increases. Rebound Frame helps forgiveness in addition to total distance because it allows for maximum distance on off-center hits. We were impressed by how straight toe shots traveled and didn't spin wildly into a massive slice. This driver is a fantastic choice for amateur players, and it's no wonder why it receives so much play on professional tours.
"It takes a lot to win Majors. Grit. Talent. Determination. And a driver that won't let you down," said Nolle Zavaleta, PR and Social Media Marketing Manager for Srixon. "That's why Major winners on Srixon's staff choose the ZX5 Driver. Because when the pressure's on during those Sunday rounds, ZX5 gives Pros the power, control, and precision they need."
If you weren't aware, the Dunlop umbrella of companies includes Srixon, Cleveland, and XXIO. Throughout our "best of" driver series, you will find several models from Cleveland and XXIO, as well. Proof that the company produced clubs for all levels of players and all aspects of your golf game.
Pros:
Deep weight results in high MOI
Distance
EvenFlow Riptide stock shaft
Cons:
Impact sound is a bit loud
PING G425 SFT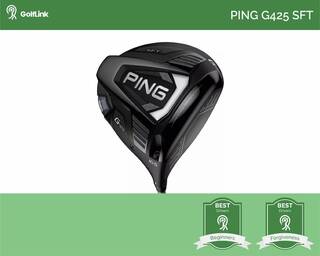 PING's G425 drivers have received rave reviews just about everywhere you look. The G425 lineup includes the G425 MAX, the low-spin G425 LST, and for those of us looking for the most forgiveness of all, the PING G425 SFT.
SFT stands for "Straight-Flight Technology," and it's technology that you'll notice even before taking the club back. This draw-bias driver is noticeably shut at address, which instills confidence that it's a slice-fighting machine. In addition, a 23-gram tungsten weight in the heel shifts the driver's CG to the heel to further promote a draw.
This driver is only available in a 10.5 degree head, but you can adjust it accordingly based on your specifications. This driver does what the marketing says it will do, the SFT script produces draws. For players who already hit a draw or tend to miss with a hook, consider the G425 MAX where you'll get the same pop and big distance with the flexibility to move that 23g weight to a draw, neutral, or fade bias location.
Pros:
True draw-bias flight
Big distance
Rewards high and low misses on face
Cons:
Not ideal for players who already hit a draw or need to correct a hook
Callaway Rogue ST MAX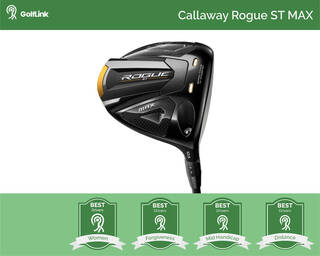 Callaway is known for producing some of the best golf clubs in the game, and has been doing so for decades. For a company that was built off of distance appeal, Callaway produces some of the most forgiving clubs we've seen in recent years. The Callaway Rogue ST MAX is one of those clubs, and all levels of players will notice its tendency to keep you in the fairway. Callaway built the Rogue ST MAX to give beginners, mid-handicaps, and even the best players in the world confidence off the tee.
At the back of the driver's head you'll notice a gold-colored section. This a Tungsten Speed Cartridge and its 26 grams of weight is concentrated low and back to provide the highest MOI possible. This also allows the head to remain stable at impact so you can be confident you're catching the sweet spot.
We were impressed with the Callaway Rogue ST Max from a distance standpoint, but the fact that we made zero hosel adjustment and it still produced soft draws was mighty impressive. It didn't produce the same distance on low hits as other models on this list, but side spin and dispersion were as good as anything.
Pros:
Natural draw-bias
Fast ball speed
Great side spin
Cons:
Does not include a wrench
Mizuno ST-X 220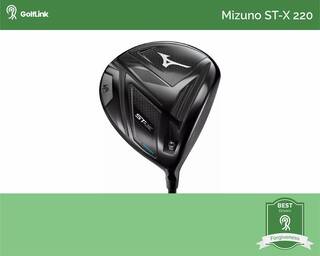 | | |
| --- | --- |
| Price | $450 [Buy at Golf Galaxy] |
| Lofts Available | 10.5, 12 |
| Player Profile | Mizuno fans and those who are curious |
Mizuno produces some of the best irons in golf. The feeling and performance of Mizuno irons are second-to-none and its cult-like following has players of all ages refusing to play anything else. But Mizuno also produces some of the best drivers in the game.
The Mizuno ST-X 220 is a draw bias driver that is engineered to produce satisfying feel, much like Mizuno irons. The ST-X 220 sets up perfect at address with no over-the-top design traits. Some carbon fiber detailing and the Mizuno logo to lineup with, that's about it. The ST-X 220 looks like a pro-level driver, but when you realize it has 20 grams of weight to promote higher, more forgiving shots, you'll know it's intended for all players.
If you're into adjustability, the ST-X 220 adjusts at the hosel up to four degrees. Finding your precise ball flight to go along with its draw bias will produce the best distance for you. If you consistently walk past the Mizuno rack, as a high handicap player thinking it's not for you, consider taking a few rips with the ST-X 220. You'll be pleasantly surprised.
Pros:
Draw-bias
Adjustability
Great feel
Cons:
Heel shots didn't produce much distance
TaylorMade Stealth HD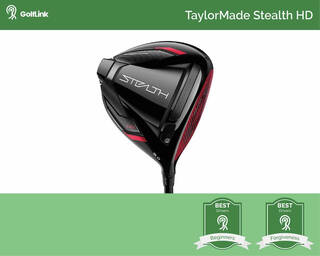 | | |
| --- | --- |
| Price | $580 [Buy at Golf Galaxy] |
| Lofts Available | 9, 10.5, 12 |
| Player Profile | The player that wants to the latest technology |
With any swipe through golf social media, with any turn through a golf magazine, and just about anywhere else, TaylorMade Stealth has been the talk of the town in 2022. With consumers becoming educated on just what exactly Carbonwood is, and red-faced drivers, TayorMade has made yet another solid stamp on the golf world.
The Stealth HD driver, like other models on this list, is a draw-bias club intended to give you the most forgiveness in the Stealth family. It also has the highest MOI in the family. Our recommendation, if you're interested in a TaylorMade Stealth, is to test all three: Stealth, Stealth Plus, and Stealth HD. This way you'll know which one fits you and your golf game.
On center shots and misses to the toe side, the Stealth HD worked the ball with its draw-bias movement as advertised. The spin on heel shots could be a little better, but players with a slower swing speed may find that it performs better in that area. After testing multiple Stealth models, we're believers in the Stealth movement, and it will be among the best series of drivers TaylorMade has produced, which is saying a lot.
Pros:
Draw-bias
Great ball speed and distance
Carbonwood technology
Cons:
Higher swing speeds are more likely to produce hooks
Titleist TSi2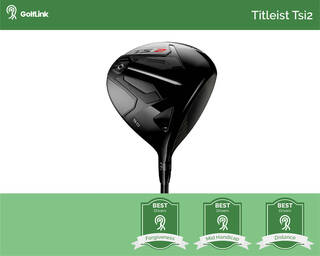 Titleist drivers have not always been in the forgiveness conversation, but the latest TSi lineup from manufacturing giant has proven to be just what slicing golfers need. We were very impressed with the Titleist TSi2 driver and what it can bring to the table for so many different of players.
The TSi2 is what you'd expect from Titleist. No large insignias, a very clean look, mostly black, and very unassuming. The TSi2 is a draw-bias model, but you won't notice a severely closed face or any other aesthetics that would turn you off. Meanwhile, Titleist is the only company using ATI 425 Aerospace Titanium, a unique alloy that helps make the TSi2 fast and powerful.
Between the draw bias and the materials, this Titleist lineup is just different from its predecessors. The TSi1, 2, 3, and 4 all have individual qualities that make them unique, but the TSi2, for us, is the golden goose because you not only get the quality and performance you'd expect from Titleist, but it also feels greats and seems to be built for the common player.
Pros:
Clean look
Lightweight
Feel at impact
Cons:
Misses low on the face didn't produce much distance
PXG 0311 XF Gen 5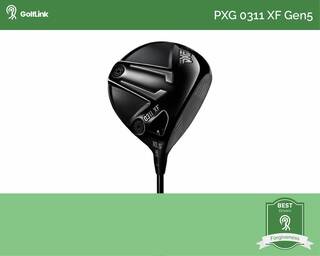 | | |
| --- | --- |
| Price | $500 [Buy at PXG] |
| Lofts Available | 9, 10.5, 12 |
| Player Profile | PXG players who want ultimate forgiveness |
We all see and hear the PXG commercials on golf broadcasts. If you've never tried PXG clubs, you can't help but wonder if they're the real deal. Our vote, without a doubt, is favorable for PXG and definitely worth your time to get fit. The new 0311 XF Gen5 is a great maiden voyage for any player who has never gone down the PXG trail. This driver is built for speed and forgiveness.
Aesthetically, there are no-frills to this driver, which should be no surprise. The crown is black with some carbon detailing and a big "x" to mark the sweet spot. Just line it up and swing. Admittedly, simplicity is a big detail for us that we tend to reward. Looking down at the 0311 XF Gen5 gives players a lot of confidence. At impact, it has a crisp yet slightly muted sound. The 0311 XF Gen5 is a mid-spin driver, so you won't see your off-center strikes spin offline too much, which was a pleasant surprise in testing. 
In looking at the sole of the driver you'll find three adjustable weights which can all be swapped out to produce the best possible results for your game. You get one lighter weight (2.5g) and two heavier weights (7.5g) but PXG also offers varying weight options which go well with adjustability at the hosel.
Pros:
Draw-bias
Clean look
Adjustable weights
Cons:
Mid-spin can cause some distance loss
Callaway Big Bertha B21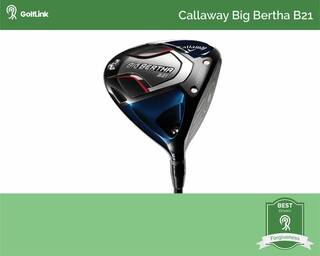 The Big Bertha name is commonly associated with distance. After all, Callaway made significant strides as a company in the 1990s by successfully putting a Big Bertha model in a vast majority of amateur and professional golf bags. The Big Bertha B21 driver is one of the latest drivers from Callaway that is a distance driver, but you'll probably find it to be the most forgiving club with a Big Bertha stamp on it that's ever been produced.
From a looks standpoint, the B21 is one of our favorites. Its color leans more towards a navy blue and your alignment aid is a large, and very familiar, Callaway chevron that gets you pointed in the right direction (hopefully). The B21 has a draw bias, so not only does it produce great ball speed and distance, but you'll also see off-center hits rewarded. A.I. Designed Flash Face SS21 is the technology behind both aspects.
One of the aspects we really liked about the Callaway Big Bertha B21 was its consistency. On shots that found the middle of the face, or even slightly off, our launch was always in the ideal 12 to 15 degree window. We also saw off-center hits minimally punished, which was the big factor for being included on this list. Callaway has produced newer models since this B21, so if this sounds like it could be the driver for you, consider testing and buying it before they dissapear from retail shelves for good.
Pros:
Sleek design
Distance/Forgiveness combo
Durability
Cons:
Likely won't be on market much longer
Wilson Launch Pad 2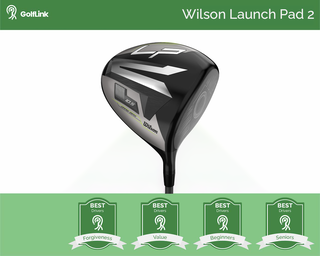 | | |
| --- | --- |
| Price | $350 [Buy at PGA Tour Superstore] |
| Lofts Available | 9, 10.5, 13 |
| Player Profile | The player who wants new technology without spending $600 |
Wilson drivers have made a comeback in recent years. At its peak, Wilson was among the most popular equipment brands in golf, but at its low point, Wilson wasn't even producing drivers that appealed to the masses.
Wilson made big strides by releasing some new models, including the first generation of Launch Pad. After a great run with the original model, Wilson has now released the Launch Pad 2 driver, which capitalizes on all of the great aspects of the original and adds a few more. The Launch Pad 2 at address looks larger compared to some of the other drivers on this list. In reality, it has a 460cc head just like the others, but advanced aerodynamics give it a slightly bigger appearance. That's definitely a confidence booster before you even take the club back. The Launch Pad also has an increased draw bias over the previous model.
Wilson went the extra mile and made the Project X EvenFlow its stock shaft, which adds to the tiger dispersion you'll see. The fixed, non-adjustable head might be a turn-off to some, but it's available as a 9, 10.5, and 13-degree head, so players from single-digit to slow swing speeds can find the perfect match.
Pros:
Value
Easy loft
Tight dispersion
Cons:
Cobra LTDx MAX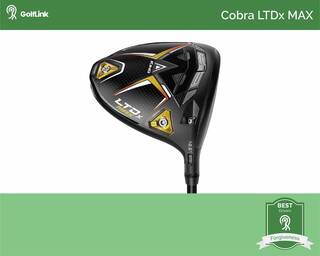 Cobra drivers have been some of the best distance producers for amateur players. When you have professional golfers such as Bryson DeChambeau and Lexi Thompson championing the brand, it's hard to not be curious how far you could hit a Cobra. What the average consumer might miss, however, is just how forgiving Cobra drivers are. Particularly, the Cobra LTDx MAX driver, which has the technology and the adjustability to keep you long and straight.
Of the three LTD models, the LTDx MAX is the highest launching, which is an ideal pairing to go along with its mid-level spin. PWR-COR Technology moves a good portion of the driver's weight low and forward to offset the high launch, giving you a consistent ball flight that won't spin off-line.
On the sole of the driver you'll find three adjustable weights which give you the ability to promote a draw, fade, or neutral flight. The other option is to adjust at the hosel which gives you options to add loft. Overall, the adjustability of the LTDx MAX is one of our favorite aspects. That, and the set head lofts are available in 9, 10.5, and even a super-high launching 13 degree version. 
Pros:
Adjustability
Includes Arccos sensor to track shots
Variety of stock shafts
Cons:
Shots high on face ballooned easily
Conclusion
Accomplished players who have the game to pick their spots off of the tee don't necessarily have the same demands as the majority of golfers. For most of us, accuracy is just as important as distance, which is why we should look beyond the yardage number and make sure we carry a driver that will keep us in the short grass. We hope that this list will guide you to the best big stick for your game and significantly cut down the number of times you're punching out from the trees.