2008 Adams Golf Idea A2 OS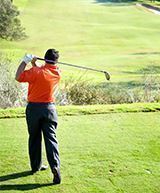 The Adams Golf Idea A2 OS irons have a main purpose: freeing golfers from worry about hitting long irons. This set is all about adding hybrid clubs to a golfer's bag, and that's important because more and more golfers are using hybrids. It's important to know the options available from the Idea A2 OS set because some golfers can have trouble getting the distance they're looking for.
Features
The Idea A2 OS iron set throws out the long irons that casual golfers sometimes have difficulty hitting, and to counter that, the Idea A2 OS set features four hybrids. Adams took the center of gravity and lowered it to 11 percent and 2.5 times deeper compared to regular irons. This gives the set a high launch, increased distance and precise gapping. The MOI is 30 percent higher, giving the clubs more forgiveness and a wide sole design offers easy hits from all lies. The shafts are lightweight and are only available in graphite. The set comes with water-resistant head covers for the hybrid clubs.
Clubs
The set comes with 3-6 hybrid iWoods that replace the long irons. The 3 and 4 hybrids are more wood-like and have an offset and low-back center of gravity to get the ball airborne. The 5 and 6 hybrids are more iron-like and have the weight placed low and back to provide forgiveness and a low, but long launch similar to mid-range irons. The 7 and 8 irons have a hollow back design that puts the center of gravity in the middle and moves the weight low and to the back of the club head. The 9 iron and pitching wedge have a large sweet spots that give these short irons increased accuracy.
Identification
The A2 O2 set has steel heads that features the Adams Golf logo in red on the back and bottom of the head. Each club is numbered on the bottom, as well. The A2 O2 identification is on the hosel of each club, while the Idea line logo is also on the head.
Benefits
This set of irons is for older golfers, golfers who have slower swing speeds and golfers who have trouble getting the ball in the air. The configuration of weight and center gravity helps with launch trajectory, while the graphite shafts available in regular or flex help golfers increase their speed and power on swings.
Considerations
Since the type of golfer who benefits the most from these clubs is limited, it is wise to consider looking into other used clubs if you are not one of those golfers. The A2 O2 clubs are not for every golfer, especially those who are more experienced.