Stewart F1 Lithium Golf Cart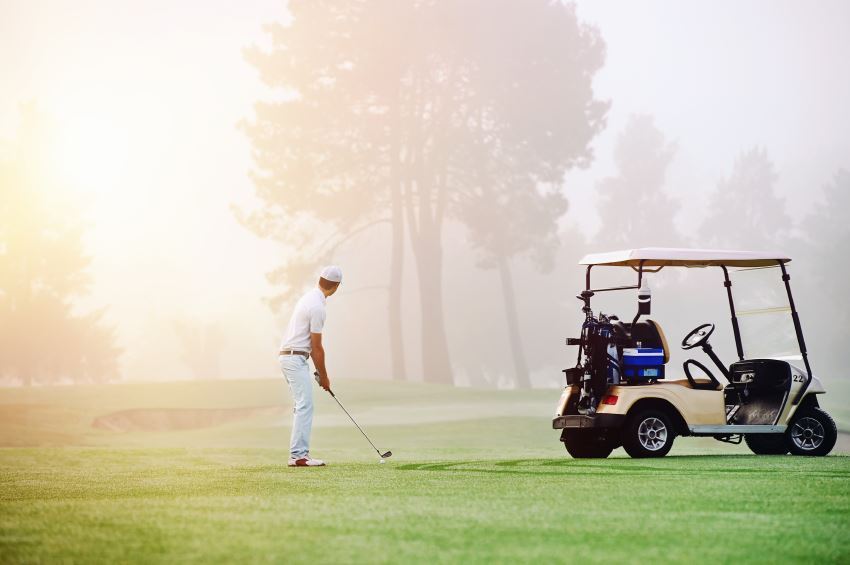 The Stewart F1 Lithium Golf Cart is referred to as the "Rolls Royce of golf carts" for good reason. This golf cart is unlike any golf cart you probably have ever seen. While a typical golf cart--even a nice one--is reasonably affordable, this personal golf cart--which is a golf bag on wheels--is only affordable to those who have money to burn.
History
The Stewart F1 Lithium Golf Cart was developed by Joseph McLuckie, president of Stewart Golf Canada. The idea for a high-end golf cart came to him as he was playing a round in 2007 and was using a specialized golf cart that was metallic blue and emblazoned with a Union Jack logo. When a golfer walked over from three fairways over to tell McLuckie that he couldn't keep his eyes off of his golf cart, McLuckie realized there could be a market for high-end golf carts.
Features
The golf bag is fully remote controlled with a three-part folding chassis for more convenient storage. It even features a "cruise control" setting that allows you to tailor the speed of the golf cart to your own walking speed. And with a 36V rechargeable lithium ion battery pack, the F1 Lithium Golf Cart i reliable for even the longest courses. It also features 14 club dividers and a waterproof and velvet-lined pocket in which you can keep valuables. There are a dozen pockets in all. You do not need to worry about the bag falling from the chassis because there is a concealed locking mechanism that will keep it in place.
Size
The Stewart F1 Lithium golf cart weighs a little more than 25 pounds. With the battery installed, the total device weighs just under 30 pounds. When folded, the dimensions of the cart are 26 inches wide, 18.5 inches high and about one foot deep. When folded, the F1 stands up straight, therefore it does not take up a lot of space.
Design
The purpose of creating this cart was to change the perception that golf bags need to be lugged around and make people realize there is an easier way. These carts are designed to be vehicles that carry the golf carts. The system consists of two main parts. The golf bag is made of canvas and is waterproof and large enough to comfortably fit 14 clubs. On the other hand, the chassis is metallic and slick. It includes an electronic system that allows golfers to simply steer the golf cart and not need to push or pull on it. The magnesium alloy wheels top off the F1 look of the cart.