2019 Presidents Cup: Team Preview
Updated December 20, 2021
The 2019 Presidents Cup kicks off at the historic Royal Melbourne Golf Club this Thursday as a team of America's best golfers takes on an International side full of stars from outside the US and Europe. The tournament features 9 games of fourball and 9 games of foursomes before wrapping up with 12 singles matches to determine which side will lift the Presidents Cup. Each win is worth a point, with tied games worth a half point. The contest has been decidedly one-sided, with the Americans winning 11 times, with just 1 tie and 1 loss to the International team. This dominance continued last year with the Americans walking away with a 19-11 win after building a big early lead. The following are a rundown of all the golfers teeing off this week in Australia.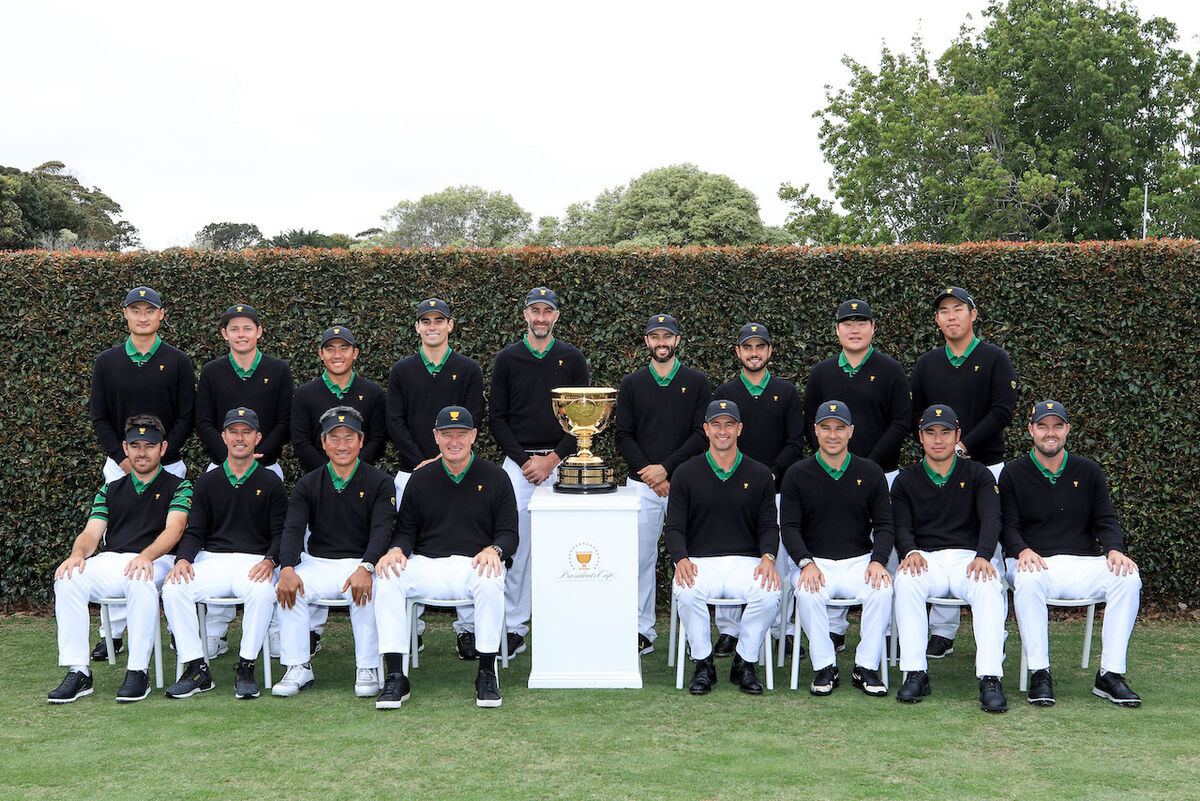 Captain: Ernie Els (non-playing)
The South African former world number 1 Ernie Els leads the International team. He has competed in 8 Presidents Cups as a player and was part of the winning 1998 side. Els will hope that experience will help him pick winning pairings as the underdog Internationals look for their second ever title.
Captain's Assistants: K.J. Choi, Geoff Ogilvy, Trevor Immelman, Mike Weir
Marc Leishman (Australia)
Leishman is returning for his 4th Presidents Cup and looking to improve on a 3-7-3 overall record. However, Leishman is undefeated in his singles matches, with 2 wins and 1 tie among his 3 appearances. If he can improve his team events Leishman could be one of the International team's most dangerous weapons.
Japanese veteran Hideki Matsuyama is competing in his 4th Presidents cup on a run a strong form. He has an overall record of 4-6-3 and will hope to overturn his team's fortunes this year. Matsuyama will undoubtedly be one of the leaders on an International team full of rookies.
Louis Oosthuizen (South Africa)
Louis Oosthuizen is another veteran looking to help the Internationals. The South African golfer has won in Australia as recently as 2016 and was the runner up at the 2019 Australian Open held last week. Oosthuizen is one of the few International players without a losing record, standing at 7-5-3, and will likely be a workhorse for his team.
Adam Scott returns to his native Australia as the highest ranked International player at 18th in the world. Scott is undoubtedly the best hope for the International team as he begins his 9th Presidents Cup this week. Though his overall record of 14-20-5 leaves a lot to be desired, if he can have a big weekend then the underdogs have a fighting chance.
Mexican golfer Abraham Ancer is one of many golfers making his debut this year at the Presidents Cup. Ancer has shown improvement on this year's PGA Tour, but is still chasing his first PGA Tour victory. He can count on his experience leading Mexico to a T2 finish at the 2018 World Cup of Golf, also held in Australia.
HaoTong Li becomes the first Chinese golfer to compete in the Presidents Cup when he tees off this Thursday. Li is best known on the European Tour where he has 2 wins. American fans might recognize Li 3rd place finish at the 2017 Open Championship, or his strong play in recent WGC events. Captain Ernie Els will look to Li to fulfill his potential during the tournament.
2019 RBC Heritage champion C.T. Pan heads to his first Presidents Cup on the back of a strong year of play. Pan is the first Taiwanese player to join the International team and will hope for a strong showing against the Americans.
Cameron Smith (Australia)
Cameron Smith joins fellow Aussies Adam Scott and Marc Leishman on the International team looking to make some noise at the Royal Melbourne Golf Club. He has previously teamed up with Marc Leishman at the 2018 World Cup of Golf and it will be interesting to see if this pair will play again this week.
Sungjae Im has used his impressive rookie PGA Tour season to force his debut at the Presidents Cup. Im is known for his strong work ethic and will hope to impress. The 21 year old is seen as a bit of a wild card and if he can find his form could be an important asset to his team.
Byeong-hun An (South Korea)
Byeong-hun An has competed on the European Tour and is nearly halfway through his second season on the PGA Tour. The South Korean replaces Jason Day after injury kept the Aussie from competing. It will be An's first Presidents Cup.
Adam Hadwin looks for redemption in his second Presidents Cup. The Canadian didn't manage a win in 2017, going 0-2-1 in the last competition. However, Hadwin remains in good form with 2 top-5 finishes this season on the PGA Tour.
21-year-old Joaquin Niemann makes his debut after a strong start to the PGA Tour. The Chilean won the first event of the season at the Military Tribute at The Greenbrier. Though Niemann has only been professional since 2018, he will be playing with confidence as Ernie Els' captain's pick.
Captain: Tiger Woods (playing)
Tiger Woods becomes the first playing captain since Hale Irwin in 1994 as he begins his 9th Presidents Cup. Woods has amassed a winning 24-15-1 record though with Woods admittedly playing fewer events to manage his body, the main question is how many games he will play.
Captain's Assistants: Zach Johnson, Fred Couples, Steve Stricker
Justin Thomas heads to his second Presidents Cup with an overall 3-1-1 record. The event will be Thomas' first tournament in Australia, but will hope that his Ryder Cup form will replicate itself down under. Early rumblings have Thomas teaming with Tiger Woods for what looks to be one of the most formidable pairings in golf.
Dustin Johnson pulled out of last week's Hero World Challenge but will tee off for the first time since September at his 4th Presidents Cup. Johnson's ability remains a question mark, meaning he may be used sparingly unless he hits a hot streak.
Patrick Cantlay is one of 5 rookies on the American team looking to make an impact. Pundits expect Cantlay to reform his Zurich Classic partnership with Patrick Reed, meaning Cantlay could play as many as 4 or 5 times this weekend.
One of the best players currently in the game, Xander Schauffele has proven his quality time after time. Remarkably, this is Schauffele's first appearance for the US national team in either the Presidents Cup or Ryder Cup. Schauffele is expected to be one of the big performers this weekend, though he will have to prove himself early in an unfamiliar format.
PGA Tour professional Webb Simpson returns to the site of his 2011 Presidents Cup triumph accounting for 3 of his 5 overall wins in the competition. Simpson arrives on good form and looks to add on to his burgeoning legacy at his 3rd Presidents Cup.
The pedigree of Matt Kuchar can't be denied, but when it comes to the Presidents Cup Kuchar has underperformed in his 4 previous appearances. Kuchar has yet to win a singles match and will hope to finally break that duck this year, though he enters the competition on the back of some inconsistent play.
The darling of 2018, Bryson DeChambeau is well known for his eccentric and scientific approach to the game. DeChambeau makes his first appearance at a Presidents Cup after also making his Ryder Cup debut last year. He will look to improve on that showing where he lost each match against the Europeans.
One of Woods' captain's picks, Tony Finau will look to carry his winning Ryder Cup form to his first Presidents Cup. Tony Finau is respected as a great match play player and will likely play all events this weekend if he gets hot early.
Reigning U.S. Open champion Gary Woodland is another rookie for the Americans. Woodland has previously teamed with Matt Kuchar, winning the 2011 World Cup of Golf, and may resume that partnership in a bid to get the Americans another title.
Captain America himself, Patrick Reed is well known for his Ryder Cup exploits. Reed often plays well with a chip on his shoulder and after being accused of improving his lie at last week's Hero World Challenge Reed will have something to prove. Expect a big performance from the baby-faced assassin.
Earned his spot as the next ranked golfer after an injury to Brooks Koepka forced Koepka to withdraw, Rickie Fowler remains a popular teammate on the American squad. Fowler boasts a 4-3-1 record from his 2 Presidents Cup appearances and will look to improve upon that record this week.
---
Television coverage in the US is provided by the Golf Channel and NBC. Due to the large time change between Australia and the US, coverage will start Wednesday 5:30pm ET-midnight. The second day will be covered on the Golf Channel 7-pm ET-midnight on Thursday. Friday coverage will be shown 3pm ET-2am ET on the Golf Channel, with a replay shown Saturday on NBC from 2:30-6pm ET. The final round will be covered live on Saturday 6pm ET-midnight on the Golf Channel with a replay on NBC 1-6pm ET.
---