Open Championship Stories: Jean Van de Velde and the 18th Hole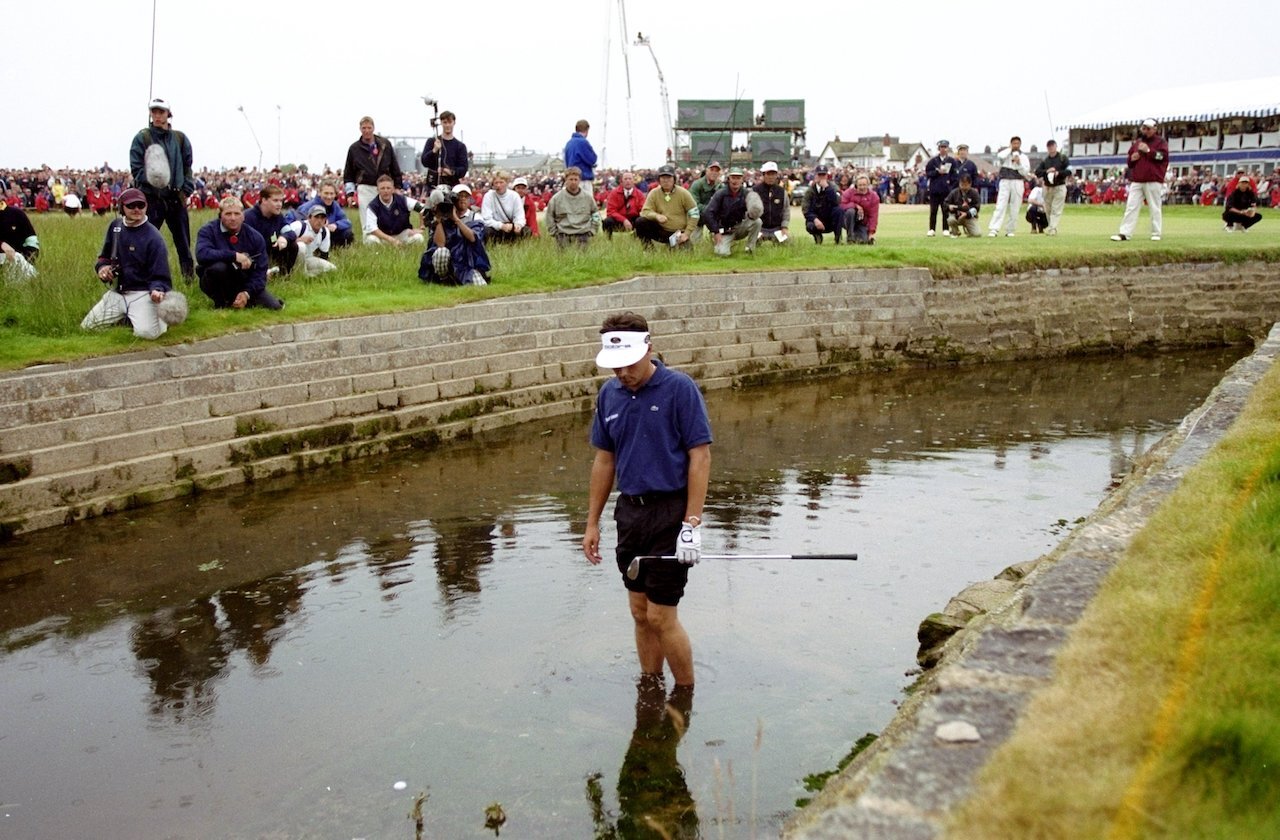 The Open Championship has seen some of the greatest finishes in golf. Jack Nicklaus and Tom Watson dueling in 1977 with closing round scores of 65 and 66, or Henrik Stenson's amazing round of 63 in 2016 to defeat Phil Mickelson will live long in the memory. However, the dramatic finish to the 1999 Open Championship also remains memorable but not for the high level of play. Instead, the 1999 Open Champion is a reminder of the immense pressure of playing at a major championship and just how wrong things can go, as Jean Van de Velde illustrated with his late collapse.
Jean Van de Velde
Jean Van de Velde was born in the city of Mont-de-Marsan in the southwest of France in 1966. He was one of France's greatest amateur golfers, winning the French Amatuer in 1986. Van de Velde soon turned professional and was playing on the European Tour by 1989. Val de Velde was a solid but unspectacular performer on the tour, with his 1993 Roma Masters his sole win before teeing off at the 1999 Open Championship.
1999 Open Championship
The conditions at Carnoustie in 1999 were particularly difficult, with Rod Pampling leading the pack after the first round with a score of even par. The difficulties would continue throughout the tournament with few under par scores carded throughout the 4 rounds. However, Van de Velde used a second round 68 to lead by 1 stroke. A third round 70 had Van de Velde sitting at par and a commanding 5 stroke lead. Entering the final round, it appeared all he had left was to play a calm round of golf to secure his first major championship win.
The Meltdown
However, things would not go according to plan. By the 11th hole, Van de Velde was tied with Craig Parry and in danger of collapse. In the ensuing 6 holes, however, Van de Velde managed a 3 stroke lead with only the 18th hole to play. All he had to do was score a double-bogey 6 or better and the Claret Jug would be his. He had already birdied the hole twice and hit par once, and the crowd eagerly awaited Van de Velde's victory.
When he decided to hit the first shot aggressively, many fans raised an eyebrow. Instead of a more conservative iron shot, he went for the driver and managed to hit a wild shot that landed on the 17th fairway. Again, he had a decision of whether to play conservatively or not. Most golfers would have hit the second shot with a wedge onto the 18th fairway. Instead, he went with a 2-iron and tried to bomb it to the green.
It did not go as planned. The ball flew wildly and hit a grandstand and took an unlucky bounce into deep rough. He now faced a hit from the rough over a water hazard, the famous Barry Burn, and greenside bunkers to make it to the green. He took a shot that seemed destined for the green--until it splashed into the water. Van de Velde was staring at a penalty drop. Remarkably, in front of a worldwide audience Van de Velde took off his shoes and socks and hiked his pants up above his knees and waded into the water. After a long time considering whether or not he could play the ball from under six inches of water, Van de Velde made the sensible decision and took a drop.
Remarkably, Van de Velde still had a chance to win the tournament. He needed to hole with two strokes, something that was possible. Until his 5th stroke landed in a greenside bunker, meaning he would have to chip it in for the win. He could not and instead now faced an 8-foot putt to force a playoff, something which he duly sunk.
Champion Paul Lawrie
Van de Velde was forced into a 4-hole playoff against Justin Leonard and Paul Lawrie. Scottish golfer Lawrie snuck into the playoff with blistering play, making up a 10 shot deficit. This is still the largest comeback in any major tournament in history. Lawrie rode that momentum into a 3 stroke win over Leonard and Van de Velde for his only major championship win. However, despite Larie's amazing comeback, the 1999 Open Championship will forever be remembered for the greatest meltdown in golfing history.
To Van de Velde's credit, he has not shied away from the event. In fact, Van de Velde once returned to Carnoustie's 18th hole to prove he could better his final round score using only a putter, something he achieved on the 3rd try. He has maintained that his aggressive play allowed him to lead the field heading into the last hole and that he saw no reason to change his winning strategy. Still, he must wonder what could have been.