Lessons from Arnold Palmer
Updated August 10, 2017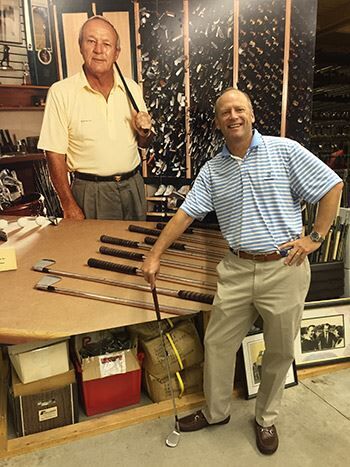 I once had the good fortune to play golf with Arnold Palmer, in the summer of 1991. My father was playing with him and there was a fourth slot, which he graciously offered to me.
While I was fortunate enough to meet with and get to know him further, this first meeting made a lasting impact on me, demonstrating his personality and character, as well as his amazing golf skill.
I recall when I met him that he had this big warm smile which put me right at ease. When I shook hands with him, his hand was just huge, and all muscle: the veritable "bear paw" grip. I had the impression if he wanted to break a few of my fingers, he would just have to squeeze slightly harder.
Palmer played that day with a Persimmon wooden driver. I found this odd, as the metal woods had mostly taken over by that point. I learned later that he personally worked on almost every club he played with, changing the weight, sanding down some angle he wanted to improve. In fact, he hand assembled each club he played with and the manufacturers always knew to send him clubs disassembled, with the blade, shaft and grip separate. Since he couldn't make as many modifications to the metal woods, he stuck with persimmons well past their time.
We teed off and he had this, shall we say, unconventional swing. Powerful for sure, but it ended in this somewhat awkward twist, almost like a baseball batter might finish. I asked him years later if he ever had a swing coach. I was aware that almost all modern day golfers have a whole team of coaches, including swing coaches, workout trainers and sports psychologists, and they often change their swing coaches every few years. Palmer's response was that he really only had one coach, his dad, "He taught me what I needed to know." I heard him later tell the story about how his dad taught him to hold a club. When Palmer was a small boy (he apparently started golf at age 3), his father put his hands on the grip just right, then looked him in the eye and said, "This is how you grip a golf club, son, and don't you ever change it." So, that's how Palmer gripped a club for the rest of his life, never changing it.
When we were on the first green, I was facing a long 25-footer. I was about to ask my caddie for a read, but then I said to myself, "Why ask your caddie when you can ask one of the greatest golfers of all time?" So I asked," Mr. Palmer, where should I putt this?" He surveyed the putt, grabbed his putter by the blade and pointed the handle to a precise point on the long and curvy green. I can tell you when Arnold Palmer tells you to putt the ball somewhere, there is little internal discussion in your head about whether he has the right read or not. No second guessing. So, I did put that ball right where he said, and 25 feet later, the ball dropped right into the hole.
On about the fifth hole, the threatening weather turned into a full blow rainstorm. Palmer was not pleased and we headed for the cover of a large tree. Soon thereafter, it started to thunder, and the pro shop sent a cart out for us. Now, Palmer was really not pleased, but we hopped on the cart and headed for the clubhouse, which was soon full of the other golfers on the course.
Once inside, my father, who had an encyclopedic memory when it came to golf shots, especially of his friend and hero, started talking about Palmer's various famous golf matches. The conversation continued to unfold as each of them reminisced about yet another detail of some 20-year old match. Palmer would glance up every few minutes to look through the large pane window of the grillroom.
Suddenly, he bolted from his chair, walked over to the window and announced it was time to get back to our game. I was a little confused because it looked to me like it was raining as hard as ever and nobody had dared to venture outside. But, Palmer was headed out in a determined march and I fell in behind him. As we were going out the door, the other golfers were suddenly silent, wondering what the heck to do. Finally, someone said "Well, if its good enough for Arnie, it's good enough for me," and with that the entire clubhouse emptied and folks scampered back to their game. Sure enough, 20 minutes later the rain stopped.
Palmer's aggressive style was evident, and he always seemed to be going for shots that even other pros would shudder at. There was nothing "safe" to his game; it was clearly in the aggressive category, stopping just short of reckless. He would later tell the story of his co-founding of the Golf Channel, which all his financial advisors were set against. His response to them was, "well, if I hadn't tried to hit it through the trees every now and then we wouldn't be here." And with that, the Golf Channel was a go. His studied aggressiveness, combined with his can-do confidence, made him a formidable entrepreneur in his own right.
As we finished the round, we were walking from the 18th green to the clubhouse. Behind us was the expansive panoramic view of the Laurel Valley Golf Club course. Palmer said, "Excuse me guys, I have something to do here." He reached into a side pocket of his bag and pulled out a golf ball, examined it and satisfied he had the right one, teed it up. My father asked what he was doing.
Palmer told us that he had played in a tournament the previous week and a young girl had approached him and gave to him a golf ball. He asked why she was giving it to him and she said that her father had just passed away. She said that Palmer was her father's hero and that the golf ball was the one that he always kept on his dresser. Palmer had asked her, "What should I do with it?" She said: "Just hit it off into the distance." So right there, with no cameras and no crowd, he pulled out that Persimmon driver, lined up and took a massive swing, sending the ball long and far. I eventually lost sight of it.
That was the first lesson of character that I learned from Mr. Palmer. I was to learn many others when I had the good fortune to meet with him in the last couple of years. The interesting thing about those gatherings was that, while he loved to talk about golf, his engaging stories often focused at least as much on his father, his wife, various members of his family, and his close friends. He loved people and deeply cared about them. He would talk about the events, people and places, like Wake Forest, that helped shape him and the importance of being a gentleman.
Arnold Palmer's golf legend will live on and be marveled at for a long time. However, for me, the greater gift was the character that he exhibited. As for many others, he became a hero of mine. I shall remember him often, whether it's that winning smile, the quip he would make with a twinkle of his eye, or the golf ball.