About Ignacio Garrido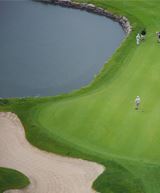 Ignacio Garrido is a professional golfer from Spain. The son of famous golfer Antonio Garrido, Ignacio turned professional in 1993 and has played on various professional tours, including the European Tour, the Challenge Tour and other third-tier professional tours. He has won four events as a professional and has appeared in numerous team golfing events representing Spain and Europe. He has also played in all of the major PGA championship events numerous times.
Early Years
Born in Madrid, Spain on March 27, 1972, Ignacio Garrido was raised in the large Spanish metropolitan, where he learned the game of golf from his father, Antonio Garrido, who was himself a five=time winner on the European Tour that Ignacio would later play on. Growing up in Spain, Ignacio joined the National Service, leaving to become an amateur in the early 1990s and winning the English Amateur Open Stroke Play Event.
Golfing Family
Ignacio earned a golfing reputation for wearing long sleeved shirts on the course. This habit came out of Garrido's link to his father's golfing clothes deal. The elder Garrido did not like wearing long sleeves, so Ignacio wore them and the habit stuck through his career. He also became only the second father and son pair to both play in the Ryder Cup; Antonio played it in 1979 and Ignacio played it in 1997.
Challenge Tour
Garrido turned professional in 1993 as a four-plus handicap, entering the second tier European Challenge Tour. He won the Challenge AGF Tournament that year and improved his game. He played well enough to enter the European Tour by 1994, where he became a main stay on that tour. He also won the Hassan II Golf Trophy in 1996 on the smaller Moroccan Tour.
European Tour
Garrido would have his best year on the European Tour in 1997, when he won his first Tour event at the Volvo German Open. He finished sixth in the season ending Order of Merit rankings and played for the European Team on that year's winning Ryder Cup team. He later won the 2003 Volvo PGA Championship on the European leg.
Career Accomplishments
In addition to his four career professional wins, Garrido has won more than $5 million in his professional career. He has also played in many team events, including winning the 1992 Eisenhower Trophy as an amateur, playing in the Alfred Dunhill Cup for Spain three times, playing in the World Cup for Spain four times and representing Continental Europe in the Seve Trophy in 2003. He has also made the cut in both the Open Championship and the PGA Championship in the PGA.