Jason Bohn: Profile and Pro Golf Stats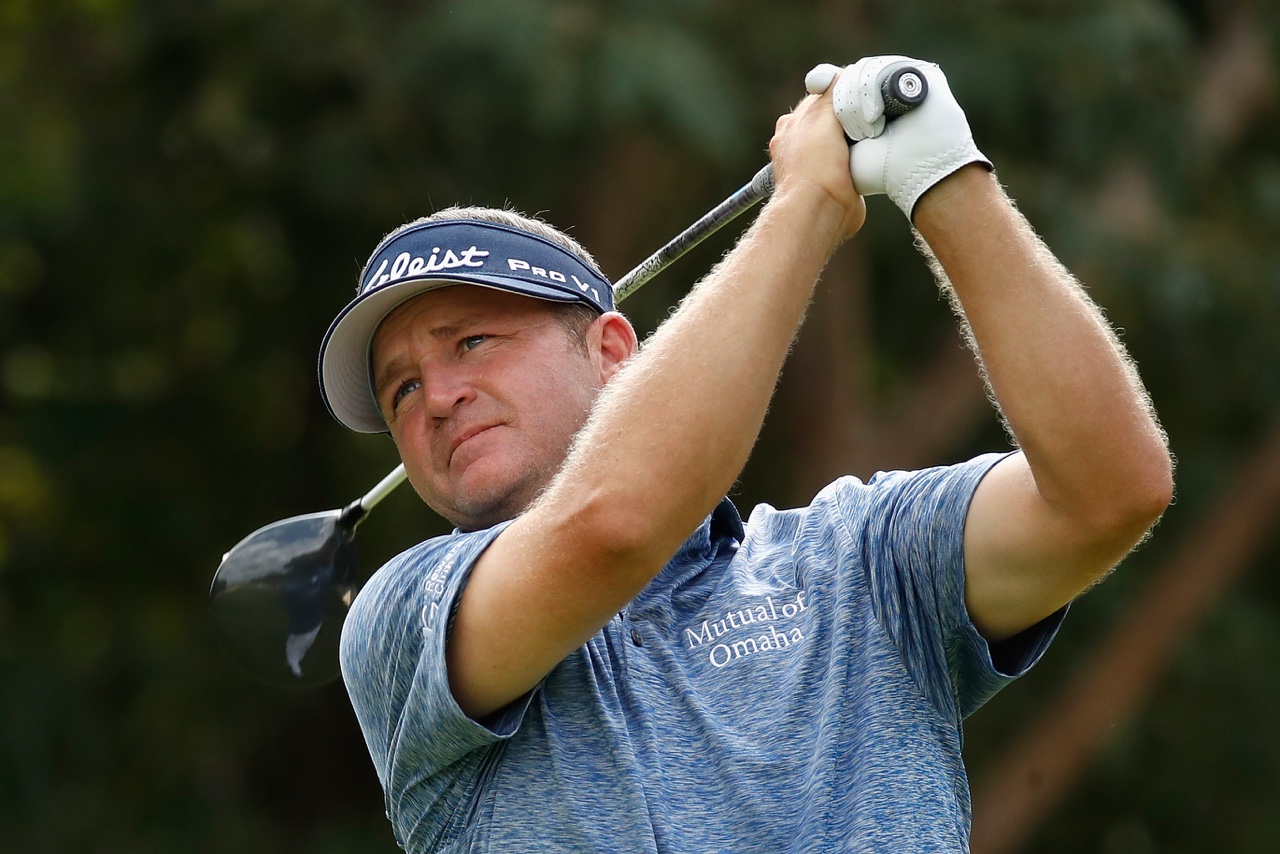 Jason Bohn's path to professional golf is literally unlike any other. Bohm turned professional in 1992 when he drained a hole-in-one for $1 million dollars at a 1992 Tuscaloosa charity golf tournament. A sophomore at the University of Alabama at the time, Bohn exchanged his amateur status and golf scholarship to cash in the $1 million and take his chances at the professional level.
Bohn worked his way up through the Canadian and Nationwide Tours before earning his PGA Tour card in 2004. Born on April 24, 1973, Bohn has fought ups and downs with health issues and injuries throughout his career, but still holds status on the PGA Tour.
Career Highlights
Since turning profesional in 1992, Bohn has won on three different professional tours, including the Canadian Tour, Nationwide Tour and the PGA Tour.
Canadian Tour
Bohn didn't get his first professional win until 2000 on the Canadian Tour when he won the Shell Payless Open. His second victory came on the Canadian Tour the following year at the Bayer Championship when he shot a final-round 58 to finish at 13-under par, setting the course record at Huron Oaks Golf Course in Ontario.
Nationwide/Korn Ferry Tour
Bohn won his first tournament Nationwide Tour, since known as the Web-dot-com tour and now as the Korn Ferry Tour, event at the 2003 Chattanooga Classic. He made history by setting a new tournament record with a four-day score of 263.
Bohn came close to two more Nationwide Tour wins, losing in playoffs at the Oregon Classic to Chris Couch, and later at the Samsung Canadian PGA Championship to Tom Carter. His five top-10 finishes in 2003 helped him finish ninth on the money list and gain status on the PGA Tour.
PGA Tour Career
During Bohn's rookie season on the PGA Tour in 2004, he made 21 of 29 cuts, but only ranked 131st on the money list, which wasn't enough to keep his card for the following year. Bohn went to Q school in 2005 where he finished tied for ninth to regain his PGA Tour card.
John earned his first PGA Tour victory at the 2005 B.C. Open and finished 35th on the money list. He posted three top-10 finishes in 2006 and had a stretch of 14 straight made-cuts.
Bohn began to fall victim to injuries in 2007. First, a rib injury limited him to just 17 starts. He posted four top-25s in those 17 starts. Bohn had another injury-riddled season in 2008, but in 2009 he earned two top-10s which helped him finish 81st on the money list. He finished T2 at the Wyndham Championship, T9 at the Barclays and T6 at the Shell Houston Open.
Bohn earned his second PGA Tour victory during the 2010 season at the Zurich Classic of New Orleans as he birdied three of the final four holes at TPC Louisiana. He also finished T10 at the Northern Trust Open.
From 2011 through 2013, Bohn didn't play his best, but during in 2014 bounced back with three top-10 finishes and 15 cuts made. Bohn finished fourth at the Wells Fargo Championship, T3 at the OHL Classic at Mayakoba and T2 at the Shriners Hospitals for Children Open.
Bohn had a career year in 2015 with six top-10 finishes. He finished T4 at the Quicken Loans National for his first top-10 of the season. Then he finished tied second at the Crowne Plaza Invitational and one stroke off the winner. Bohn also finished T2 at the Sanderson Farms Championship.
In 2016, Bohn made 13 cuts in 21 starts. He finished the season with three top three finishes in his first four starts. Those top-threes came at the OHL Classic at Mayakoba, where he lost in a playoff; at Shriners Open, where he finished T2; and the Frys.com Open.
Injuries and Health Issues
Bohn's injuries began in 2007 when he hurt a rib at the Memorial, and re-injured himself a month later in the AT&T National. The injury bug followed him into the 2008 season when he herniated a disc in his back and complications from the resulting surgery limited him to just 15 events.
During the 2016 Honda Classic after he finished his second round, Bohn sought assistance from one of the on-site medics due to shortness of breath and chest pains. Doctors determined he had a heart attack, and found that 90% of an artery was blocked. After a stent was placed, Bohn spent five weeks recovering before he returned to golf, nd when he made the cut at RBC Heritage.
Career Earnings and Stats
As of 2021, Bohn has a career earnings of $16,317,841 in 364 events played. During his PGA Tour Career, Bohn has two victories, 10 second place finishes, four third place finishes and 30 top-10s. His highest finish in the FedExCup rankings was 40th in 2015 and he has made 219 of 364 cuts.
Away From the Course
Bohn loves spending time with his wife Tewana and his two children Connor and Cameron. He also loves college football and is a big supporter of the Atlanta Food Bank.
Image: Gregory Shamus/Getty Images Sport via Getty Images