About Juvic Pagunsan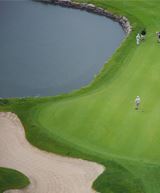 Juvic Pagunsan is a professional golfer on the Asian Tour. He was born in Bacolod City, Phillipines on November 11, 1978, and currently resides in Manila. Since turning professional in 2006, he has earned $605,802, placing in the top 10 in several tournaments, as well as winning awards. The Asian Tour website describes him as having "a graceful golf swing and a pleasant disposition where he always (carries) a smile on his face." His father, Juanito, who is also a professional golfer, taught Pagunsan how to play as a young boy.
Pride of the Philippines
Pagunsan became one of the star athletes in the Philippines when he was named the Asian Tour's Rookie of the Year in 2006. The announcement came after he finished second in the Hong Kong Open in November 2006, and Pagunsan, in an article in National Golf Association of the Philippines, was described as "the hottest Filipino pro today."
Asian Tour
Pagunsan's lone victory on tour was the Pertamina Indonesia President Invitational in 2007. He had a birdie eagle finish to edge India's Ghaganjeet Bhullar and was described on the Asian Tour website as "one of Asia's rising stars." From 2006 to 2008, Pagunsan had nine top 10 finishes, including finishing second three times, in 54 tournaments. Pagunsan's best finish to date, in 2009, was third in the Asian Tour International where he shot a 13-under-par 271 to finish three strokes back. His next best finish was tied for fifth at the Brunei Open at the end of July. He shot an 11-under-par 273 to finish two shots back.
Statistics
Pagunsan is averaging 71.35 strokes per round in 2009 and was at seven strokes under par for the season after the Brunei Open. He is averaging 64 percent greens in regulation on the season. He is currently ranked 324 in the world, according to the World Golf Ranking, and is ranked 18 in Asia.
Other Professional Highlights
Pagunsan has two other career professional victories. One came at The Country Club Invitational in the Philippines in 2006. He defeated Filipino legend Frankie Minoza in a playoff. The other came at the Negeri Masters in Malaysia in 2007.
Amateur Career
Pagunsan's amateur career highlights included 2005 victories at the Manila SEA Games, the Philippine Amateur, the Thailand Amateur and the Malaysian Amateur. He also led his team to victory at the 2005 Manila SEA Games. In 2001, he won the Kuala Lumpur SEA Games. He finished second at the 2004 Philippine Open after entering the final day as the co-leader.