About John Bickerton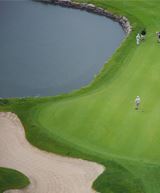 John Bickerton is a professional golfer from England. He turned professional in 1991 at the age of 22 and has played on both the European Tour and the Challenge Tour. He has had success as both an amateur and a professional, and has enjoyed wins as an individual and in team events. He has golfed in two of the major PGA championships and has won four events in his career as a professional as of August 2009.
Early Years
Born in Redditch, England on December 23, 1969, John Bickerton began golfing as a young child growing up in the West of England. He first learned the game from his father, and gained his first exposure to the country's golf courses caddying for his father, an avid golfer. To support his golfing during his teenage years, he worked as a welder in his father's sheet metal business.
Golf Beginnings
Besides golfing through school, Bickerton began taking the game seriously in his late teenage years and earned amateur honors in England's youth and boys leagues. He began making his way through the upper amateur leagues and won enough to earn his way onto the Challenge Tour, which is the second-tier men's tour in Europe behind the European Tour.
Challenge Tour
Bickerton made his way onto the professional circuit in 1991, where he golfed smaller tours throughout Europe with varying success. He made his debut on the Challenge Tour in 1993, where he went on to win the Gore-Tex Challenge in 1994 and earned himself a spot in the top 10 of that tour's money list and a promotion to the European Tour. After a short and unsuccessful stint on that tour, he returned to the Challenge Tour again in 1997 and again finished sixth on the money list in 1998, earning his way to the European Tour once more.
European Tour
Bickerton achieved his highest finish on the European Tour Order of Merit rankings in 1999, his second year in his second stint, when he finished 20th. He would tie this accomplishment in 2006 when he finished 20th again. He would not win an event until his sixth year on tour and his 288th event. After five different finishes in second place, he was successful at the Abama Open de Canarias in October 2005. He would win twice more, at the Open de France in 2006 and the Alfred Dunhill Championship in 2007.
Career Accomplishments
On top of Bickerton's four professional wins, he has maintained a stroke average of just under 72, a putting average of 29 and a driving average just over 270 yards. He has competed in the PGA's Open Championship and the PGA Championship, finishing as high as 48th in the Open Championship. He has also represented Great Britain and Ireland on the 2000 Seve Trophy team.