About Lee Janzen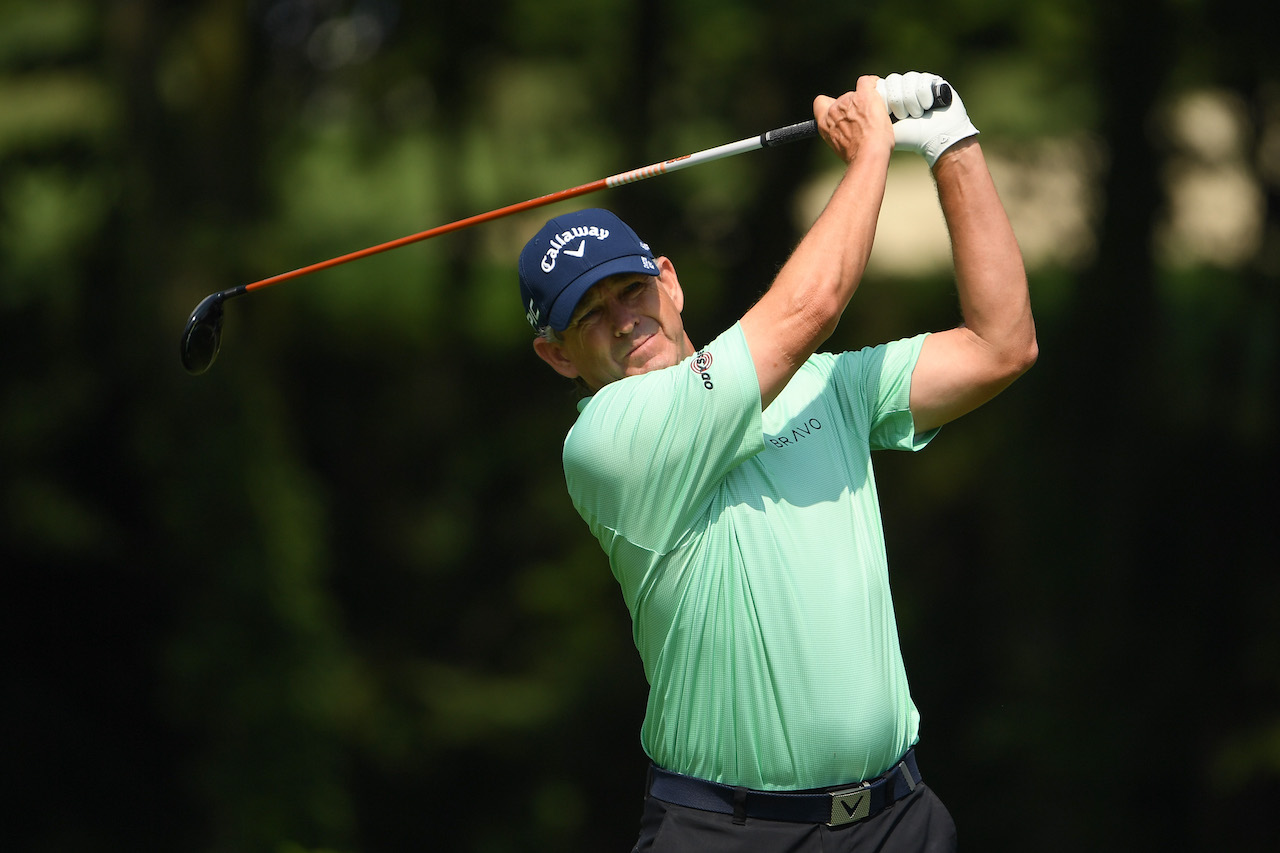 Born in Austin, Minnesota, Lee Janzen has won eight tournaments on the PGA Tour including two U.S. Opens (1993 and 1998). Janzen was first introduced to the game of golf by his parents when his family moved from Baltimore, Maryland to Florida.
Lee Janzen Career Highlights
Janzen began playing golf at the age of 14 and won his first junior event shortly thereafter at 15. Since his first win, Janzen has found success on some of the largest stages in golf.
Early Career
Janzen played collegiately at Florida Southern and was part of back-to-back Division II national championship teams in 1985 and 1986. Janzen turned professional in 1986 and his first career victory on the PGA Tour came at the 1992 North Telecom Open.
In 1993, Janzen prevailed on two occasions, including wins at the Phoenix Open and the U.S. Open at Baltusrol Golf Club.
PGA Tour
Since winning eight tournaments during the 1990s, Janzen has been unable to return to the win column since 1998 when he notched his second U.S. Open title.
Outside of his two U.S. Open victories, Janzen's most notable win came at the 1995 Players Championship. As of July 2021, Janzen totaled over $65 million in career earnings and has spent time ranked in the top 20 of the Official World Golf Rankings.
Janzen struggled after 2009 on the PGA Tour and even spent some time on the Korn Ferry Tour. In his last full year on the PGA Tour, he made five of eight cuts without a top-25 finish.
PGA Tour Champions
Janzen debuted on the PGA Tour Champions for the 2015 season where he produced one win and seven top-10s in 22 starts. He won in his second-ever appearance at the ACE Group Classic to nab his first victory in 17 years. Janzen defeated Bart Bryant in a one-hole playoff.
His second season wasn't as successful as Janzen fell from 16th to 56th on the final money list. Janzen finished with just one top-10 finish in 23 events. That lone top-10 came at the Mississippi Gulf Resort Classic presented by C Spire where he finished T5.
Janzen rebounded in 2017 when he finished 12th on the money list as he tallied five top-10 finishes, and 16 top-25s. He finished T2 at the Charles Schwab Cup Championship just one stroke behind Kevin Sutherland.
2018 featured four top-10 finishes for Janzen, including a runner-up finish at the Chubb Classic. His efforts advanced him to the Charles Schwab Cup Championship for the third time in his career where he finished 32nd in the standings.
Janzen continued to perform well in 2019 with six top-10s. His best finish came at the Insperity Invitational where he finished third. Janzen rounded out the season by finishing 30th in the Charles Schwab Cup.
As of August 2021, Janzen has two top-10 finishes through the COVID-19 2020-21 super season.
Major Championships
In both of his U.S. Open victories, Janzen defeated the legendary Payne Stewart. In 1993, he finished two strokes clear of Stewart and prevailed by just one stroke in 1998. During his second U.S. Open championship, Janzen overcame a five-shot deficit entering the final round of play. After compiling 5 top 10 finishes in major competition from 1993 to 1998, Janzen has failed to crack the top 10 in a major.
Ryder Cup and Presidents Cup
Janzen competed in two Ryder Cup events, representing the American team in 1993 and 1997. He helped lead the United States to victory in 1993 and has a career record of 2-3 during Ryder Cup play. In addition, Janzen was selected to the U.S. Presidents Cup team in 1998 where the International team dominated the Americans, winning 20½ to 11½.
Career Earnings
Since turning pro in 1986, Janzen has a career earnings total of $20,265,794, including $16,040,639 on the PGA Tour.
Career Stats
In his 631 PGA Tour starts, Janzen made 407 (64.5%) cuts. He collected eight wins, seven runner-ups, eight third places, 66 top-10s and 188 top-25s. So far in his PGA Tour Champions career, Janzen has one win, three runner-ups, one third place, 25 top-10s and 69 top 25s.
Away From the Course
Along with his wife and children, Janzen currently resides in the Orlando, Florida area. Janzen contributes to several charitable foundations and recently partnered with the First Baptist Church of Orlando and the Feed the Children organization which helps provide worldwide hunger relief.
Janzen is an avid Baltimore Orioles fan and a big supporter of the College Golf Fellowship.
Resources
Image: Quinn Harris/Getty Images Sport via Getty Images